Ugandan helicopter wrecks found in Kenya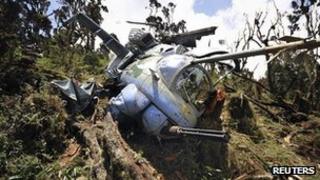 The wreckage of two Ugandan helicopters that went missing on Sunday has been found in a remote area of Kenya, Kenyan officials have said.
Two bodies have been recovered and eight other people on the aircraft have been rescued, the officials added.
Both attack helicopters were part of a contingent being sent to reinforce the African Union (AU) force in Somalia.
A Ugandan spokesman suggested bad weather caused the crash and ruled out an external attack or mechanical fault.
A third helicopter on the same mission made an emergency landing in Mount Kenya on Sunday.
Its passengers have been rescued, Kenyan army spokesman Col Cyrus Oguna said.
Only one of the four Russian-made helicopters en route to Somalia made a scheduled refuelling stop on Sunday in the Kenyan town of Garissa.
'Completely destroyed'
The wreckage of the two missing helicopters was spotted on Mount Kenya - Africa's second-highest peak at 5,199 metres (17,057 feet) - by wildlife officers.
The deputy warden of Mount Kenya National Park, Simon Gitau, said rescue workers saw two bodies and helped rescue eight other people from one of the two downed helicopters, the AP news agency reports.
One helicopter has been completely destroyed and the other partially, Col Oguna told the BBC.
Uganda Army spokesman Colonel Felix Kulaigye told the BBC's Focus on Africa programme that the helicopters had been purchased in 2003 and had a lifespan of more than 20 years, if well maintained.
He said they had been checked by a UN team before setting off and so a mechanical fault was "out of the question".
"We have ruled out foul play, an external attack," Col Kulaigye said, adding that an investigation had been launched.
The combat helicopters came down as they were flying from Uganda to Somalia to take part in an AU-led offensive to capture the port city of Kismayo from the militant Islamist group al-Shabab, correspondents say.
Ugandan troops form the bulk of the nearly 17,000-strong AU force in Somalia, where they are supporting the UN-backed government.
Although it has lost ground in the past year, al-Shabab, which has joined al-Qaeda, still controls many southern and central areas.