South Africa shark survivor's hope for Paralympic medal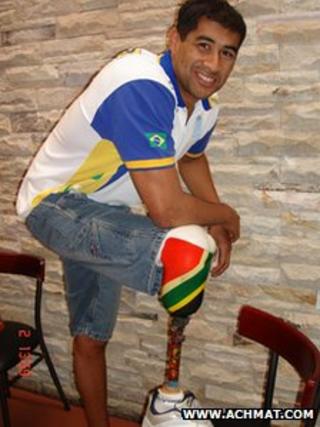 South African swimmer Achmat Hassiem, who lost a leg in a shark attack, has told the BBC he hopes to win a medal at the Paralympic Games in London.
The 30-year-old said he had been training hard for the 100m butterfly and the 100m and 400m freestyle races.
"I'm in the top three in the world for my event. What more can I ask for?" he said.
Hassiem's leg was severed by a shark at Muizenberg beach in 2006 after he drew it away from his brother, Taariq.
Breaking bone
"A four-and-a-half metre great white shark came into the training bay and was heading for my brother," the former lifeguard told the BBC.
"As you know, it's obviously the job of big brother to look after little brother."
Hassiem, who was 24 at the time, said he started "drumming" in the water until the shark left Taariq, 17, alone and came towards him.
"I told the lifeguards to pull my brother out of the water," he said.
"Then, it was just me and the shark. The next thing I knew the shark grabbed me at the lower half of my right leg, continued to thrash me around and pulled me underneath the water for about 50m."
He said he fought the shark until he heard the "sound of my bone breaking" from his leg.
"I knew I was free and I immediately swam to the surface," said Hassiem, who lived close to the Cape Town beach where the attack took place.
Hassiem, who competed at the 2008 Paralympics in Beijing, said the attack was a life-changing event.
"The most important thing was the life of my brother. To lose a leg is nothing," he added. "Good things have happened to me since then. Today, I'm a Paralympian."
He said he was excited about competing at the London Paralympics, which get under way on 29 August with the opening ceremony.
"I was in Beijing. When I walked out to the pool deck, hearing all the people cheering brought tears to my eyes," he said.
"I can just imagine what London is going to sound like."