South Africa's Jacob Zuma visits Marikana mine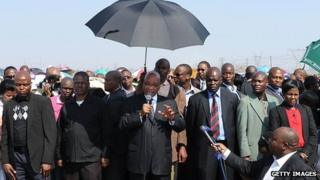 South Africa's President Jacob Zuma has visited the Lonmin-owned Marikana mine where police shot dead 34 striking workers last week.
Angry protesters chanted "Down with the police" as Mr Zuma promised a thorough investigation into the killings.
The miners embarked on a strike on 10 August to demand higher wages, forcing the mine's closure.
Religious leaders have brokered talks between management and workers to resolve the dispute.
Police opened fire on the strikers on Thursday, after accusing them of instigating violence.
South Africa's Nobel Peace laureate Archbishop Desmond Tutu Archbishop Tutu, in a column in South Africa's Business Report newspaper, said the violence reminded him of police behaviour during apartheid.
"When we consigned apartheid to history, we said never again would it happen that our police and our soldiers would massacre our people," he said.
However, he acknowledged that police faced a difficult job, as protests often turned violent.
"When we march, we demand, we destroy and we loot. We care not whether our demands are reasonable, or what actions we take," Archbishop Tutu said.
'Under pressure'
On Wednesday, about 600 workers at the nearby Royal Bafokeng Platinum Mine in North West province also embarked on a strike to demand higher wages.
Rock drill operators, who led the Lonmin strike, gathered peacefully at the mine to demand a wage increase as a handful of police stood by, AFP news agency reports.
"The inquiry I have instituted will get to the bottom of what happened here," Mr Zuma told the strikers at Lonmin.
"Those saying our government gave orders to kill are misinformed because it will never be our policy to harm those we represent."
The BBC's Nomsa Maseko in South Africa's main city, Johannesburg, says Mr Zuma was under pressure to go to the mine and address the workers.
Opposition leaders and the expelled youth leader of the ruling African National Congress (ANC) party, Julius Malema, visited the mine on Tuesday.
Mr Malema, who has been campaigning for the nationalisation of mines, blamed Mr Zuma for the violence.
The Bench Marks Foundation, a faith-based group which monitors corporate performance, said it had organised talks between Lonmin and worker representatives.
"So far the process was very cordial and both parties listened to each other," the organisation's chairman, Jo Seoka, said.
"Negotiations started... to give the workers a platform to present their grievances and demands."
On Tuesday, Lonmin dropped its threat to fire workers if they failed to end their strike.
The miners say they are currently earning between 4,000 and 5,000 rand ($484-$605) a month and want their salary increased to 12,500 rand.
The company says most workers are paid about 10,500 rand, if bonuses are added.