Cape Town residents warned about stray hippo calf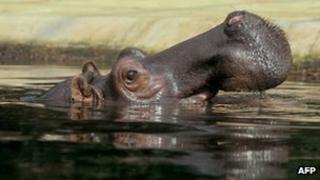 Residents in the South African city of Cape Town have been warned about a young stray hippo after it was sighted in gardens and roads.
The two-year-old calf has been spotted in Zeekoevlei, a district south-east of the city centre, after becoming separated from its pod, officials said.
The hippo is believed to have wandered out of a wetland reserve after some of the fence surrounding it was stolen.
Wildlife officials are hoping to guide it back to its home pod.
If that fails, they will consider capturing or darting the animal, they said.
'Dangerous'
According to a city statement, the calf followed a female hippo which left Rondevlei Nature Reserve to give birth.
The mother and her new calf later returned but the young hippo appears to have lost its way.
"The public is advised to be particularly cautious, as hippos are known to be extremely dangerous wild animals," the city said in a statement, warning people not to approach or stop the animal.
"This could lead to dangerous encounters and may potentially prolong the capture operation by influencing the animal's behaviour.
"Motorists in the area of Zeekoevlei should be cautious."
Meanwhile, efforts are being made to rescue a hippo from a swimming pool in a game farm near Modimolle, in the northern province of Limpopo, reports said.
The hippo has spent three days in the pool, South Africa's Eyewitness News reported.