Ex-President Laurent Gbagbo's aide held in Ivory Coast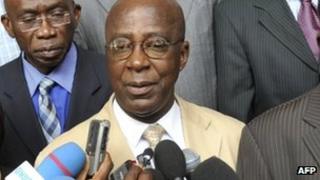 The secretary-general of the party of former Ivory Coast President Laurent Gbagbo has been arrested, reports say.
Laurent Akoun was held in a town north of Abidjan, a spokesman for Mr Gbagbo's Ivorian Popular Front (FPI) said.
Government sources allege he is implicated in attacks on the army - a charge also levelled at two other senior FPI officials detained recently.
Separately, at least four people were killed in a gun battle west of Abidjan on Saturday, the government says.
Defence Minister Paul Koffi Koffi said armed men in a vehicle opened fire on soldiers at a checkpoint in the village of Irobo, about 80km (50 miles) west of Abidjan.
Although the country's commercial capital has been relatively peaceful recently, there have been outbreaks of unrest, especially in the west of the country, which correspondents say remains awash with guns.
Earlier this month, fighters loyal to Mr Gbagbo killed 10 soldiers in Abidjan, the government said.
Mr Gbagbo's supporters dismiss the claims, accusing the government of using the violence as an excuse to crack down on the opposition.
The West African nation is still recovering from months of unrest after a disputed election in November 2010. Some 3,000 people were killed in clashes after the poll.
Mr Gbagbo refused to accept defeat to President Alassane Ouattara, who eventually ousted his rival with the help of former rebel forces, the UN and former colonial power France in April 2011.
Mr Gbagbo is currently in The Hague, awaiting trial at the International Criminal Court on charges of crimes against humanity.