South Sudan troops killed by Yau Yau rebels in Jonglei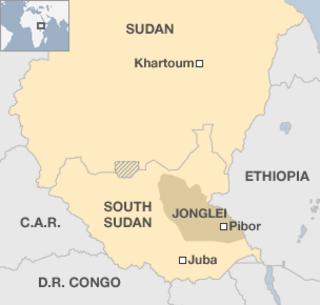 At least 24 South Sudanese soldiers have been killed in an ambush by rebel fighters, the army says.
Army spokesman Philip Aguer blamed the attack on rebels led by David Yau Yau.
Mr Yau Yau leads one of several groups to have taken up arms since South Sudan seceded in 2011.
Col Aguer said a convoy of 200 soldiers was attacked after being sent to the remote Pibor area to investigate reported sighting of Mr Yau Yau's fighters.
He also said he suspected that some ethnic Murle fighters had joined the rebellion to resist moves to disarm them, following bitter ethnic clashes earlier this year.
Mr Yau Yau, who is from the Murle community, first rebelled after losing out in the 2010 elections but then signed a peace deal before taking up arms again in April, according to the Reuters news agency.
More than 1,000 people have been killed in two years of clashes between the Murle and Lou Nuer groups.
The two groups have a long history of stealing each other's cattle.
South Sudan, which gained independence from Sudan last year, is awash with small arms after decades of civil war that ended in 2005.