African viewpoint: Death on the continent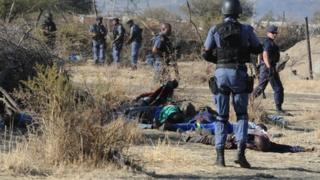 In our series of viewpoints from African journalists, film-maker and columnist Farai Sevenzo reflects on the recent deaths of three African leaders, miners in South Africa and prisoners in The Gambia.
2012 may well be remembered as the year in which three African presidents died in office. Malawi, Ghana and Ethiopia were leaderless briefly but the dead were calmly replaced and everything moved on as normally as we could have hoped for when deputies took over the ships of state and uncertainty was extinguished.
There was no mystical sign, despite some preachers claiming that they had prophesied a death or two. The three men simply fell ill and sickness silenced their voices forever.
Ethiopia's Meles Zenawi's Twitter feed had fallen silent way back in May, and so rumours of his illness had seeped from his hospital in Brussels and back to Addis Ababa so that the people knew some ill wind would bring the news down eventually and a sense of preparedness had been in the offing.
Since it may be bad manners and bad luck to say that 2012 has a few more months to go and we may lose a few more leaders to untimely death, I shall not entertain that thought.
Presidents in their passing this year have seemed to unite their respective countries like never before. Think of the amazing scene of Ethiopians coming together in Addis the other night, a sea of candles reflecting on their leaders' passing in Meskel Square and beyond.
Or of the unity of the Ghanaians as John Atta Mills dropped his baton - a death greeted with dignity by chiefs and villagers, heads of state and street children.
These untimely ends should of course strengthen the argument that it may not be too wise in the Africa of tomorrow to have leaders who are constantly fighting with their birthdays and the states of their health.
Even as Angola goes to the polls later this week, President Jose Eduardo Dos Santos will have reached 70 and still going, as if there can never be an alternative.
Over in Zimbabwe a constitutional draft had suggested that the presidential term should be limited to 10 years and that executive power should be distributed within a cabinet. Eighty-eight-year-old President Robert Mugabe has rejected such a suggestion in the proposed new constitution and elections are a year away.
Young and wise?
Of course it may well be the case that there is no alternative to the old and infirm running nations in which the average age keeps falling to the 20s and lower, but it is a debate that will not go away.
It would be wrong too to talk only of the powerful that die or may not be with us for long without remembering the weak that have been claimed by famine, war and the actions of the police.
Striking South African platinum miners were the focus of a memorial service in Marikana in scenes raw with grief and underlined the truth about these African lives that, while they may have been taken cheaply, they mattered.
And then there is The Gambia. Here we have a head of state in Yahya Jammeh who is still only in his 40s and seems as far away from death's grasp as any young person imagines himself to be.
When Mr Jammeh will die is a fact known only to his maker, and it is certain that when he does die some will mourn him with the same depth of feeling that other citizens in other countries have mourned their leaders.
But Mr Jammeh shocked us all the other day by announcing that he would celebrate Eid by executing up to 47 people, many of them charged with treason, currently on death row in The Gambia's prisons.
Amnesty International now says all 47 people had been moved to one place and last Thursday night nine people, including one woman, became the first executed in the West African country since 1985. It is, according to the human rights group, "a giant leap backwards".
The African Union asked the youngish president to renounce his plans after hearing him say in a televised speech: "By the middle of next month, all the death sentences would have been carried out to the letter".
However, nine executed people have been his answer to the AU.
Of course, if the executions continue, these will be 47 lives cheaply taken by a paranoid president who imagines that his own life is worth a great deal more than those whose killings he has ordered.
If you would like to comment on Farai Sevenzo's latest column, please use the form below.