Nigeria's Power Minister Barth Nnaji resigns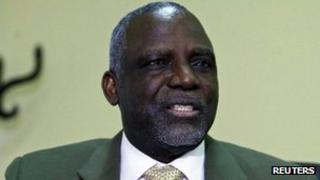 Nigeria's Power Minister Barth Nnaji has resigned amid reports that he is linked to a company bidding for a lucrative electricity contract.
The government is privatising state-run companies in an attempt to end Nigeria's chronic power shortages.
A spokesman for Mr Nnaji said he had faced "totally wrongful accusations", Reuters news agency reports.
Politicians in Nigeria, where corruption is rife, rarely resign over conflicts of interest, analysts say.
President Goodluck Jonathan, who pledged to tackle the electricity crisis when he took office in 2010, said he accepted Mr Nnaji's resignation.
'Vested interests'
Neither he nor Mr Nnaji gave reasons for the decision, but it came after Nigerian newspapers reported that the ex-minister had an interest in a company involved in bidding for two state assets being sold off.
A spokesman for Mr Nnaji confirmed he had a stake in the company, but denied that this amounted to a conflict of interest as the regulator had been informed, Reuters reports.
"He [Mr Nnaji] didn't like the totally wrongful accusations he had a conflict of interest in this process. These were planted by vested interests," the spokesman is quoted as saying.
"He would rather go about his private business."
BBC Africa's Fidelis Mbah says since coming to office in July 2011, Mr Nnaji has ruffled feathers with the reforms he has attempted to implement.
He has been trying to tackle corruption and inefficiency in the power sector, which has angered civil servants likely to lose their jobs, he says.
Wealthy businesses which import generators have also criticised his plans to sell 11 distribution and six generation companies as part of a privatisation initiative, our correspondent says.
Nigeria is Africa's leading oil producer, with huge natural gas reserves.
However, the country is often hit by fuel and electricity shortages, as the government prefers to export oil rather than using it for domestic needs, analysts say.