Escaped hippo evades Cape Town authorities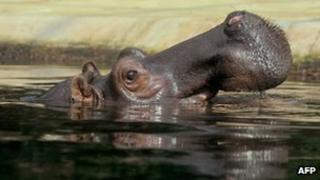 Authorities in the South African city of Cape Town are battling to try to capture a young stray hippo they say could pose a danger to residents.
The two-year-old calf was spotted about a week ago, having wandered out of a wetland reserve after some of the surrounding fence was stolen.
But the animal has so far evaded authorities' attempts to sedate it and take it to another reserve.
It has been touring the suburbs, eating lawns and shrubs.
The hippo is in the Zeekoevlei area of the city, surrounded by dense development - raising the prospect that it could come into conflict with the surrounding community.
"The city has to remove the hippo," Julia Wood of the city's environmental department told the BBC.
"Until we do, we will monitor it every night."
Members of the public are urged not to approach the hippo but to report sightings to a hotline.
Authorities warn hippos can be highly dangerous, and that they should not be chased, shot at, fed or photographed using a flash.
'Dispersing male'
The hippo is believed to have escaped from Rondevlei reserve when a 300m (yard) section of the fence around the reserve was stolen.
At first authorities hoped it would return to the reserve on its own accord, but on Tuesday they began efforts to try to capture the animal - so far with no success.
"The hippo shows no signs of returning to Rondevlei through the funnels that staff have created in the fence," Ms Wood said.
"Thus, in all likelihood, the animal could be a dispersing male [seeking his own territory] and thus a different home for the animal needs to be found."
A vet from what will be the hippo's new home - the Gondwana Game Reserve at Mossel Bay - is leading efforts to dart the animal.
Hippos were poached to extinction in areas such as Zeekoevlei by the early 1700s, and the population that now lives in the False Bay Nature Reserve - of which Rondevlei is a part - are a major visitor attraction, Ms Wood said.
A second hippo has also been found at large in the Cape Flats Waste Water Treatment Works, the authorities said, and this was also being monitored.