Nigeria's President Goodluck Jonathan halts naira reforms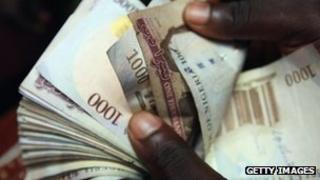 Nigeria's president has ordered the suspension of plans to introduce a new series of coins and a high-denomination note, following a public outcry.
An adviser to President Goodluck Jonathan said the suspension would give the Central Bank of Nigeria more time to explain why the changes were needed.
The government says using coins for small amounts would save money.
But the BBC's Fidelis Mbah says people do not like coins and fear a high-denomination note will fuel inflation.
The highest denomination note is currently 1,000 naira - worth $6 (£4) - and the government says this makes paying for high-value items difficult.
The government wants to introduce a new 5,000 naira note.
Coins would replace notes for amounts up to 20 naira and there are even plans for cash machines to start dispensing coins, rather than notes.
"The introduction is being suspended for now to enable the CBN to do more enlightenment on the issue," said Mr Jonathan's adviser, Reuben Abati.