Sudan and South Sudan leaders discuss oil and borders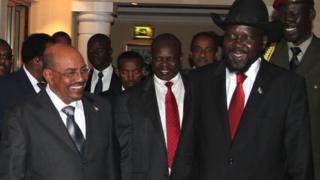 The leaders of Sudan and South Sudan have resumed talks in the Ethiopian capital Addis Ababa aimed at resolving long-running disputes.
Sudan's President Omar al-Bashir and his South Sudan counterpart Salva Kiir met for almost two hours late on Sunday ahead of long-delayed talks.
Differences over borders, oil revenues and the disputed region of Abyei took them to the brink of war in April.
The UN has threatened sanctions if the latest talks do not produce a deal.
South Sudan seceded from Sudan last year following a long civil war in which two million people died - but serious disputes between the two countries remain.
The BBC's James Copnall in Addis Ababa says that after a brief meeting on Monday morning the two negotiating teams - each with just a handful of people - have been locked in talks for hours, along with African Union mediators and Ethiopian Prime Minister Hailemariam Desalegn.
Demilitarised zone
Some officials from both sides have expressed optimism a deal with be found.
But our correspondent notes that both presidents are also under pressure from hardliners, who are opposing any apparent concessions.
These negotiations should have been concluded before South Sudan seceded last year, our correspondent says.
It is perhaps no surprise that the talks are going right down to the wire, he adds.
A Sudanese official told the BBC said the main sticking point concerned the so-called "14 mile area", on which agreement is needed for a demilitarised buffer zone to be set up.
Other issues on the table include the region of Abyei, which is claimed by both sides, how much South Sudan should pay Khartoum for transporting its oil and demarcating the common border.
A South Sudanese minister told the BBC precise wording in the proposed agreement was being worked out.
The two men also met on Sunday night.
Afterwards, they appeared together, smiling and looking relaxed.
Mr Kiir told South Sudanese state media he hoped for a "celebration" after meeting Mr Bashir.
The UN Security Council has called for urgent agreement on a demilitarised border zone.
UN head Ban Ki-moon called for "co-operation and mutual development", and the US said Sudan should agree to an African Union border plan already accepted by South Sudan.
Last month, the two countries agreed to re-open their land border after a closure lasting more than a year.
However, the border remains unmarked.
At independence in July 2011, the South gained two-thirds of the former country's oil while Sudan retained the processing and export facilities.
In January, the South shut down oil production, accusing Sudan of stealing its oil, and the two countries' economies have been seriously damaged as a result.
Negotiating teams said they had made progress on several of the outstanding issues before the heads of state arrived.
The hope is that some degree of progress will encourage South Sudan to restart oil production, providing much needed revenue to both countries, our correspondent says.
Foreign diplomats are cautiously optimistic and exerting gentle pressure on both sides, he adds.
Delegations from the two states have been in Addis Ababa for talks since 4 September.
An ambassador quoted by Reuters news agency over the weekend said it was unlikely the two leaders would agree on borders although a deal on resuming oil exports was possible.
"The borders will take forever," the unnamed diplomat said. "They will exchange maps with experts, visit each other, go maybe into arbitration."
South Sudan, where people chiefly follow the Christian faith or traditional indigenous religions, fought for decades with mainly Muslim Sudan.
Both Sudan and the South are reliant on their oil revenues, which account for 98% of South Sudan's budget. But the two countries cannot agree how to divide the oil wealth of the former united state. Some 75% of the oil lies in the South but all the pipelines run north. It is feared that disputes over oil could lead the two neighbours to return to war.
Although they were united for many years, the two Sudans were always very different. The great divide is visible even from space, as this Nasa satellite image shows. The northern states are a blanket of desert, broken only by the fertile Nile corridor. South Sudan is covered by green swathes of grassland, swamps and tropical forest.
Sudan's arid north is mainly home to Arabic-speaking Muslims. But in South Sudan there is no dominant culture. The Dinkas and the Nuers are the largest of more than 200 ethnic groups, each with its own languages and traditional beliefs, alongside Christianity and Islam.
The health inequalities in Sudan are illustrated by infant mortality rates. In South Sudan, one in 10 children die before their first birthday. Whereas in the more developed northern states, such as Gezira and White Nile, half of those children would be expected to survive.
The gulf in water resources between north and south is stark. In Khartoum, River Nile, and Gezira states, two-thirds of people have access to piped drinking water and pit latrines. In the south, boreholes and unprotected wells are the main drinking sources. More than 80% of southerners have no toilet facilities whatsoever.
Throughout the two Sudans, access to primary school education is strongly linked to household earnings. In the poorest parts of the south, less than 1% of children finish primary school. Whereas in the wealthier north, up to 50% of children complete primary level education.
Conflict and poverty are the main causes of food insecurity in both countries. In Sudan, many of the residents of war-affected Darfur and the border states of Blue Nile and South Kordofan, depend on food aid. The UN said about 2.8m people in South Sudan would require food aid in 2013. The northern states tend to be wealthier, more urbanised and less reliant on agriculture.