Nigeria anti-fraud EFCC agents jailed for taking bribes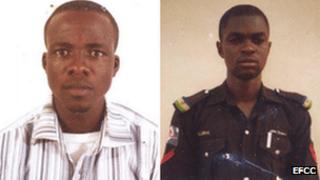 Two anti-corruption agents in Nigeria have been given five-year prison terms for accepting bribes.
The Economic and Financial Crimes Commission said its officers had been found guilty of asking for about $630 (£390) from a politician to stop a supposed investigation.
He informed the EFCC which organised a sting operation to catch the agents.
The EFCC has faced criticism in its attempts to tackle what some see as entrenched high-level fraud in Nigeria.
Rights groups say the commission, set up in 2002 - three years after military rule, has often been under the influence of politicians.
In a statement, the EFCC said Douglas William and Abba Ishaku were arrested in October 2010 after trying to obtain money from Kullima Kachalla, the chairman of a local government administration in Borno state.
The agents had told the politician they would destroy documentation to launch an alleged investigation into his mismanagement of public funds.
During the sting operation, the court heard how Mr Kachalla brought the money to the EFCC's office in the capital, Abuja.
"It was in the course of the receipt of the money that the two staff were arrested and subsequently arraigned," the EFCC statement said.
"In his ruling, Justice [Abubakar] Umar said because the convicts have suffered enough humiliation, their sentence should start from the date of their arraignment," the commission said.
BBC Nigeria correspondent Will Ross says that, to many Nigerians this is yet another case to prove that when it comes to corruption, only relatively minor cases are ever dealt with.
After all what is $630 compared to the billions of dollars that are believed to have been stolen in a fuel subsidy scam, he says.
Several fuel traders are due in court in connection with the scam but once again they are small players, our correspondent notes.