Gbagbo's Ivory Coast ally rejects Mali Islamist links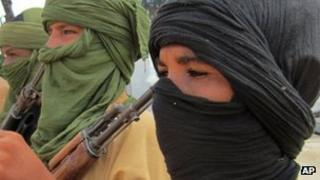 A key ally of former Ivorian President Laurent Gbagbo has dismissed as "malicious lies" suggestions that his supporters are trying to enlist the help of Islamist fighters in Mali.
Charles Ble Goude, a youth leader when Mr Gbagbo was in office, was reacting to allegations in a leaked UN report.
It said Mr Gbagbo's allies wanted to destabilise the region in order to seize power from Ivory Coast's leader.
Violence followed the 2010 poll when Mr Gbagbo refused to admit defeat.
His rival Alassane Ouattara was eventually sworn in as president after a four-month stand-off in which some 3,000 people were killed.
Mr Gbagbo is currently in The Hague, awaiting trial at the International Criminal Court on charges of crimes against humanity.
'Lack of impartiality'
Earlier this year, Islamist and Tuareg rebels seized control of the north of neighbouring Mali, taking advantage of chaos that followed an army coup.
As well as seeking help from the Islamists, the leaked report by a group of UN experts also accuses Mr Gbagbo's supporters of attempting to recruit members of the Malian armed forces in their efforts to oust President Ouattara.
Mr Goude, whose whereabout have been unknown since Mr Gbagbo's capture in April 2011, told Radio France Internationale (RFI) that the allegations were not true.
In a statement released by his lawyer he said they were "malicious lies which have been purposefully promoted by those who wish to prevent his return to public service" in Ivory Coast, AP news agency reports.
"Charles Ble Goude, furthermore, regrets the lack of impartiality shown by the group of experts in failing to contact him through his legal representative in order to obtain his response to the allegations," the statement said.
On Monday, Ivory Coast reopened its land and maritime borders with Ghana, more than two weeks after they were shut following a deadly cross-border attack - officials blamed on exiled supporters of Mr Gbagbo.
Mr Ouattara, as current head of the West African body Ecowas, has been leading efforts to see a regional force deployed to Mali to help dislodge the Islamists.