Kenya judge Nancy Baraza resigns following gun inquiry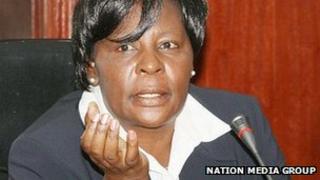 Kenya's Deputy Chief Justice Nancy Baraza has resigned nine months after she was accused of threatening a security guard with a gun.
According to the female guard, the judge had pinched her nose and pulled out a gun after refusing to be frisked at a shopping centre on New Year's Eve.
In August a tribunal recommended that Ms Baraza be sacked.
She said she had dropped her appeal to the Supreme Court as she felt she would not get a fair hearing.
She said the chief justice, who is also Supreme Court president, had endorsed the tribunal's recommendations in a television interview, reports said.
Ms Barazam, who was suspended from her post in January, has denied pointing a gun at the guard.
"I do not see myself getting a fair and impartial hearing before the court as currently constituted," the AFP news agency quotes her as saying in a statement.
The seven-member panel, headed by Tanzania's former Chief Justice Augustino Ramadhani, agreed with the guard's account of events at the Village Market shopping centre.
Security has been stepped up in public places across Kenya since it sent troops into neighbouring Somalia a year ago.
The al-Qaeda aligned al-Shabab group threatened to take revenge and there have been numerous grenade attacks in Nairobi and elsewhere.
It is now common practice in Kenya for people to be frisked or be scanned with metal detectors before they are allowed in shops, theatres and even places of prayer.