Zanzibar clashes over missing cleric Sheik Farid Hadi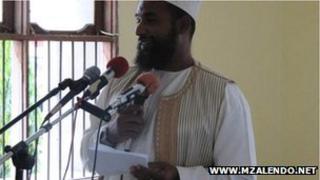 More than 50 people have been arrested followings two days of riots that have shut down businesses and schools on the Tanzanian island of Zanzibar.
The trouble began when supporters of Muslim cleric Sheik Farid Hadi, who campaigns for Zanzibar's autonomy, found out that he had gone missing.
There were running battles between the police and young men throwing stones and burning tyres.
One policeman was killed after being attacked on Wednesday evening.
The BBC's Aboubakar Famau in Zanzibar says police continued to use tear gas on Thursday to quell the situation and disperse any groups.
It is believed that criminal gangs took advantage of the situation and joined the riots.
Bars and shops have been looted in the violence, stones and burnt tyres litter the roads and national school exams that were due to be written on Thursday were postponed.
Mr Hadi, who leads a group called Uamsho, has not been seen since Tuesday.
His group has distanced itself from the violence and says it was not involved in the death of the policeman.
Our reporter says that at a joint media conference on Thursday both the police and Uamsho leaders called for calm.
The police said 51 people had been arrested and assured Uamsho supporters that they did not know why the Muslim cleric had gone missing and were still searching for him.
Zanzibar is a semi-autonomous territory that maintains a political union with Tanzania, but has its own parliament and president.
Tourism is Zanzibar's biggest industry, but most Zanzibaris have yet to benefit from it and the average wage is less than $1 (£0.60) per day.
Sheikh Hadi and his Uamsho movement are particularly popular with disillusioned and jobless youth.