Nigeria police 'kill 14 kidnap gang members'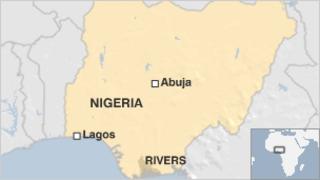 Nigerian police say they have killed 14 members of a gang specialising in kidnapping and armed robbery.
The gang's leader, known as Bishop Nelly, was also among those killed in a raid on the kidnappers' hideout in southern Nigeria.
A Turkish national kidnapped by the gang a month ago had earlier been released for a ransom, police said.
Arms and ammunition were also found in the camp, in Rivers State which is part of the oil-rich Delta region.
Wave of attacks
"The hoodlums were shot dead during a gun battle with the security agents in their camp in Kaani community in Ogoni land," state police spokesman Ben Ugwuegbulam told the Agence France Presse.
He said the gang had been under surveillance since kidnapping a Turkish construction worker. He was freed before security forces stormed the camp in the early hours of Friday.
The gang opened fire on the troops, but "the security operatives returned with a superior firepower and in the process shot dead six of the kidnappers instantly," Mr Ugwuegbulam said.
Eight others died of gunshot wounds on their way to the hospital, he added.
As well as 98,900 naira ($620, £400) of the ransom money, six AK47 rifles, nearly 450 rounds of ammunition and 17 magazines were found in the camp, he went on to say.
Scores of foreign nationals - mainly expatriate oil workers - have been kidnapped for ransom in the oil-rich south over the years.
Although there has been a dramatic decline in abductions since a 2009 amnesty for militants, sporadic incidents continue.
Bishop Nelly's gang has been blamed for a wave of robberies and attacks on security agents in the state in recent months, Mr Ugwuegbulam said.