Three faces of the new Tunisia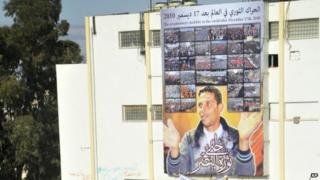 It is two years since protests began in Tunisia after Mohamed Bouazizi set himself on fire outside local government offices in the central town of Sidi Bouzid - the act that sparked the Arab Spring.
His death prompted a nationwide uprising that led to the overthrow of President Zine al-Abidine Ben Ali, and hopes of a fairer Tunisia.
But two years later, unemployment is even higher than at the time of the uprising, and during recent demonstrations in the town of Siliana, police opened fire on protesters with birdshot.
The BBC's Imogen Foulkes has talked to three very different Tunisians about their hopes and fears.
Mahjoub El Harbaoui, local government worker from Siliana
It was a peaceful demonstration, a legal demonstration. We were making legitimate demands for jobs and better services.
Our province has been neglected economically, and our local governor isn't helping.
We marched from the trade union offices to the governor's house, but we weren't asking to replace him.
We wanted to ask for investment in our region, I mean, if we can't speak to our own governor about that kind of thing, who can we speak to?
But we were answered with "cartouches" (birdshot).
I got shot in the eye, and I don't know if I will keep the sight in this eye now. I have had an operation, the doctors here are doing their best, but I just don't know.
I can't believe this happened, I'm not a "casseur" (hooligan). I was demonstrating peacefully.
I am 46 and I have two very young daughters. If I lose my sight I might not be able to work.
Siliana is a region that's always been forgotten in Tunisia, and now the economic situation is even worse.
There is a feeling that we are just not paid attention to, that no-one cares about our problems here, that no-one really respects us.
It's as if we just don't count, as if we are not a factor in any one's equation.
And I think you can say that about a lot of Tunisia now.
Sonia El Ghoul, police trainer in Tunis
I trained originally as a lawyer, but then I took the police examinations as well. I won a competition to get into police officer training. Now I am a superintendent.
I am very happy in my job right now, the fact that we are in transition makes it a real challenge.
We know we are working to change things and that motivates us.
Such things [the shootings in Siliana] can happen anywhere, but it should be a lesson to us and to the people too.
It's true that at the moment we don't have a lot of trust from the people, but we are trying, every day, just with little things, to build up confidence.
Just the way we talk to people, for example, can help to build up trust.
After all, we are dealing with the public every day, so it is important that every police officer knows what human rights are.
He or she needs to know that having the confidence of the public is a must - in that respect we do need to change mentalities, of our officers, and of the public.
But police officers are people too. There are good ones and bad ones, just like everywhere else.
There have been big changes in the last two years, but the biggest is that we have the freedom to say what we think. And there is more respect for the other person's point of view.
For the police, it means we discuss things a lot more than we did in the past. We talk about the law, how we must stay within the law, and we can question our superiors.
I am an optimist, yes, I am positive about the future. Things are changing in Tunisia every day and, of course, there are difficulties, but I think we will succeed.
Tarek Cheniti, UN human rights officer
I'm Tunisian, but I was working and studying in the UK when the uprising first began. And I had a fellowship to the United States, but instead I went back and joined the uprising.
So I took part in the events that led to the collapse of the Ben Ali regime, and that had a tremendous impact on me personally because I saw men and women getting together to claim their rights and do so in a peaceful way - that's why I took the job I have now.
We can make a difference. We can highlight the situation of particular groups of people who might be at risk, the situation of rural women for example, or religious minorities, or indeed any minority.
You can talk about all these things in Tunisia now, some of these topics were taboo under the Ben Ali regime, which used to project the image of a progressive and modern political regime but it wasn't the case.
So this is a window of opportunity in Tunisia.
With Siliana, in a way the events there almost make me hopeful for the future because it was a demonstration against decisions taken in unaccountable ways.
People protested against the governor whom they thought did not represent them and that movement was extremely peaceful.
At one point they even left the town, and left him alone in the governor's residence, as a way of telling him he did not represent them properly.
Things like this are very normal in democratic transitions, and they have to happen. I would be worried if there were no protests.
But it's important for the police to recognise that the kind of force they used in Siliana is never an option.
So we are working on changing laws, and on changing attitudes. It will take time, but it will happen.