Zimbabwe's David Coltart: 18% pass rate is progress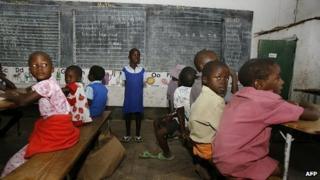 Zimbabwe's education minister has deplored the fact that nearly 82% of students have failed their basic school leavers' exams, the Ordinary Level.
But David Coltart told the BBC this was an improvement on 2009, when only 14% passed and blamed a decade of "chaos".
His Movement for Democratic Change (MDC) joined President Robert Mugabe's government in 2009 to end Zimbabwe's political and economic crisis.
Zimbabwe used to have one of the best education systems in Africa.
The results reflect the political and economic decline the country has witnessed over the past decade, correspondents say.
'No teachers'
Last month, Finance Minister Tendai Biti said the government only had $217 (£138) in its public account after paying civil servants.
Mr Coltart told the BBC's Focus on Africa programme that the results were sobering.
"I'm afraid that this was inevitable. There's been so much chaos in Zimbabwe's education system in the last decade that it was inevitable that children's education would be affected in this way," he said.
"If you don't have teachers, if you don't have textbooks, ultimately literacy and numeracy proficiency drops, and that is eventually reflected in examination results."
Mr Coltart said the 82% failure rate was an improvement on previous years.
"In February 2009, the pass rate was 14.4%. It's now 18.4%," he said.
"We are improving it but there's still a lot of work to be done."
The coalition government is due to end later this year when elections are held.
The 2008 presidential election was marred by widespread violence, with the MDC's Morgan Tsvangirai, who is now the prime minister, boycotting a run-off vote.
Mr Tsvangirai is expected to challenge Mr Mugabe again for the presidency.
The power-sharing government has ended years of hyperinflation by using the US dollar, but the economy remains fragile, correspondents say.