Tunisia's Moncef Marzouki's CPR 'stays in government'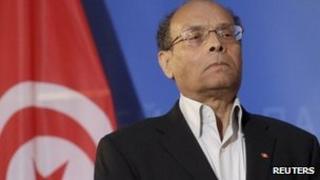 Tunisian President Moncef Marzouki's party has reversed its decision to withdraw from the Islamist-led government, an official has said.
The secular CPR party said it would stay in the coalition for another week to give talks a chance, he said.
The CPR had earlier threatened to quit the government if two Islamist ministers were not replaced.
Tunisia's political crisis has deepened since last week's killing of opposition politician Chokri Belaid.
Thousands of people took to the streets of the capital, Tunis, and other cities, to demand the government's resignation.
They blamed the main Islamist party, Ennahda, for Mr Belaid's death.
The party denied any responsibility.
Congress for the Republic (CPR) Secretary-General Mohamed Abbou told a news conference that the party had decided to remain in the government.
"The party has decided to freeze the resignations of its ministers for a week for more discussions on a coalition government," he said.
The CPR is one of two non-Islamist partners in the Ennahda-dominated coalition.
Mr Abbou said the CPR was opposed to the formation of a non-partisan government of technocrats, as suggested by Prime Minister Hamadi Jebali last week to end the crisis in Tunisia, AFP news agency reports.
"We are against a government of technocrats as it would allow for the return of figures from the former regime [of ousted President Zine al-Abedine Ben Ali]," he is quoted as saying.
Mr Jebali's Ennahda party has also rejected the proposal, saying Tunisia needed a strong political government to steer the country out of its crisis.
Several hundred opposition supporters, including Mr Belaid's wife, Besma, continued protesting outside the Constituent Assembly in Tunis on Monday.
"They must go, all of them, including the prime minister. The game is over," she told Reuters news agency.
"If they stay, one fears to see other assassinations in this climate of fear and violence."
Mr Ben Ali was forced from power in 2011 after weeks of protests - the first popular uprising in the so-called Arab Spring.