Oscar Pistorius and Reeva Steenkamp: What we know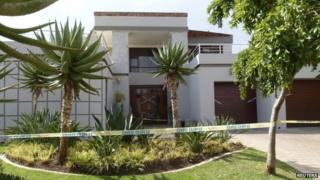 South Africans are stunned by the arrest of Olympic athlete Oscar Pistorius over the fatal shooting of his girlfriend, model Reeva Steenkamp.
Mr Pistorius, a double amputee who runs with carbon-fibre blades, is seen as a national hero for his dogged determination to compete in the Olympics, as well as the Paralympics.
Here is what we know so far:
Police rush to Mr Pistorius's upmarket home at a gated community in the capital, Pretoria, after a call from a neighbour at around 03:00 local time (01:00GMT) on Thursday, a police spokeswoman says, without naming the athlete, or the victim.
Paramedics are already at the scene, trying in vain to save Ms Steenkamp's life. She is declared dead, after being shot in the head and upper body, the spokeswoman says.
Police arrest Mr Pistorius and seize a 9mm pistol. The house is cordoned off, as forensic experts gather evidence and police interview neighbours.
Mr Pistorius is held at the Boschkop police station in Pretoria, where local and international journalists have gathered.
Hours later, Mr Pistorius leaves the station under police escort. Most of his face is covered by the hood on his grey jacket. He sits between two people in the back seat of a white unmarked VW Polo, the South African Press Association (Sapa) reports.
Mr Pistorius has a medical check-up at a hospital in Pretoria. His sister, Aimee, is seen leaving the hospital.
Ms Steenkamp's PR firm confirms on Twitter that she is dead and requests that the privacy of her family be respected.
Mr Pistorius's father, Henke Pistorius, tells local radio that his son is "sad" following the shooting, Sapa reports.
Mr Pistorius was initially expected to appear in court on Thursday afternoon to face a murder charge, but this is delayed to Friday as police say they need more time to build their case. Police say they intend to oppose bail, Sapa reports.
A billboard featuring Mr Pistorius in an advert for South African TV channel M-Net is removed in Johannesburg, in a sign of sponsors starting to distance themselves from him.