Dutch Yvonne Basebya jailed for Rwanda crimes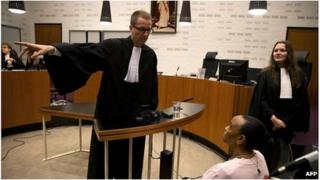 A Rwandan-born Dutch citizen has been sentenced to six years and eight months in jail for inciting genocide.
Yvonne Basebya, 66, incited against her ethnic Tutsi neighbours before the Rwandan genocide in 1994, before moving to the Netherlands in 1998.
She was cleared of other charges, including perpetrating genocide, murder and war crimes.
Some 800,000 Tutsis and moderate Hutus were killed during the Rwandan genocide.
The case made Basebya the first Dutch citizen to be convicted of crimes related to the genocide.
Basebya wore a pink jacket, black trousers and sat impassively during the sentencing, the AFP news agency reported.
"She incited unfortunate youngsters to commit murder against Tutsis during meetings, as evidenced by the song she sang, 'Tuba Tsembe Tsembe', which means 'let's exterminate them all'," Judge Rene Elkerbout said.
The wife of a former Rwandan government minister, Agustin Basebya, she immigrated to the Netherlands in 1998 - before her crimes were known.
She was prosecuted as a Dutch citizen, but other war crimes suspects have been put on trial at the International Criminal Tribunal for Rwanda (ICTR).
The ICTR is due to close in 2014 after it has finalised more than a dozen outstanding appeal cases.
It says it has completed more than 70 cases since it was set up under a UN Security Council resolution in November 1994 to try the ringleaders of the genocide.