Nigeria army 'kills 20 Boko Haram members'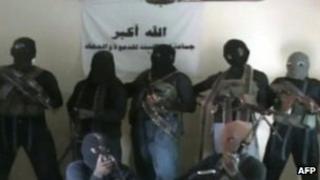 Nigeria's military says it has killed 20 fighters from Islamist group Boko Haram in the north-eastern Borno state.
An army spokesman said the militants were killed as they tried to seize military barracks in the village of Monguno. The attack was repelled.
Weapons and ammunition were also seized from the militants. The spokesman made no mention of military casualties.
Boko Haram has been blamed for a series of deadly attacks in northern Nigeria in recent years.
The group has not commented on the latest attack in Monguno, about 200km (124 miles) north of the regional capital Maiduguri.
In a separate development, a video emerged purportedly showing Boko Haram's leader, Abubakar Shekau, who denied claims that his group was taking part in any peace talks with the government.
This comes after reports that a senior Boko Haram commander declared ceasefire earlier this year.
Boko Haram says its members are fighting to create an Islamic state in Nigeria's predominantly Muslim north.
The group has been blamed for the deaths of some 1,400 people in central and northern Nigeria since 2010.
Last month, a video emerged featuring a gunman claiming to be from Boko Haram, who said the group had abducted seven members of a French members, including four children.
The militant said the Westerners had been seized in Cameroon. He demanded an immediate release of prisoners in Nigeria and Cameroon.