Kenya election 2013: 'We've been waiting for five years'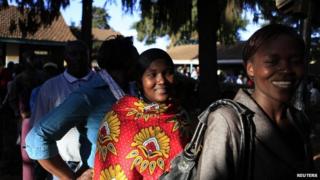 This was a display of democratic engagement that would put most countries to shame.
The queues to vote just went on and on. In some places they stretched for more than a kilometre.
There was frustration in places at the slow progress of the queues.
Many polling stations had to remain open far longer than the official close of voting, because of technical problems.
But, by and large, the mood was upbeat.
In the Kibera district of Nairobi, voters stood patiently in line, shielding themselves from the sun with hats and umbrellas.
The neighbourhood is one of the city's largest slums. It is the constituency of Raila Odinga, one of the favourites for the presidential contest and the scene of some of the worst violence following the last election in 2007.
Today, many had arrived before dawn.
Bitter lesson
"No problem," said Anthony Wachira, who had been queuing for nearly four hours.
"We have been waiting for this for the past five years."
In the shadow of a disputed election that in had caused unprecedented pain and upheaval, there was a strong sense that perhaps today Kenyans might put that dark chapter behind them.
"Above everything we want to vote for peace," said Mr Wachira.
"Never again. Kenyans have had a very bitter lesson. We will not repeat what happened previously."
They cast their ballots into colour-coded boxes - six for each voter - for a variety of different representatives, local and national.
But, despite the impressive turnout, not everyone managed to vote.
Outside Nairobi, on the edge of the Rift Valley we met Margaret Wambui Karanja. Margaret is from Eldoret. During the violence that followed the last election, she and her community were chased from their homes.
"They beat us in '92," she remembered. "They beat us in '97. So when the clashes came in 2007, we decided not to go back."
And so, five years on, Margaret and more than 200 others still live in their temporary camp of concrete huts and corrugated iron roofs. It is called Mai Mahiu, and it is becoming ever more permanent. It is also a long way from where Margaret is registered to vote.
The election may be only the first chapter in a process that could continue to a second round in April. But it has run more smoothly than many had expected or feared.
Back in Kibera, we came across a man with dreadlocks and a pot of white paint.
His message, "Peace: Wanted alive", can be seen daubed on walls and roads around the neighbourhood.
The real test of peace, though, is likely to come once the results have been announced. The real test will be whether all sides accept the outcome, winners and losers alike.