UN eases decades-old Somalia arms embargo for one year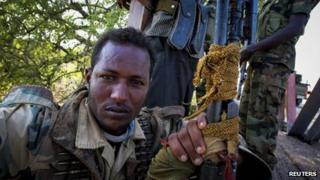 The UN Security Council has unanimously voted to partially lift its ban on selling arms on Somalia for a year.
The embargo is the world's oldest, having been imposed in 1992, and will be partially eased for a year in order to help the country's new government.
The decision means the government will be able to buy light arms to help in its fight against Islamist militants.
Some countries had been reluctant to ease the ban for fear of fuelling insecurity in Somalia.
Correspondents say a compromise seems to have been reached: lifting an embargo on small arms for one year but keeping restrictions on heavy weapons.
The council also voted to extend the mandate of an African Union peacekeeping force in the country by a year.
The government of President Hassan Sheikh Mohamud had been pressing for the embargo to be lifted. He took office in 2012 after the first election of its kind since President Mohamed Siad Barre.
"The council has struck the right balance. It sends a positive signal to President Hassan Sheikh but it continues to give the council oversight of weapons flows into Somalia," Britain's UN ambassador Mark Lyall Grant said.
Many items will still be banned from Somalia, including surface-to-air missiles, large-calibre guns, howitzers and cannons.
The human rights group Amnesty International had said the move would be "premature", saying tighter safeguards were needed first to ensure weapons did not fall in to the wrong hands.
The embargo was imposed after the fall of President Barre in 1991 and subsequent bloody infighting between clan warlords.
Recent years have seen conflict between a UN-backed government and the al-Shabab Islamist militia.
Al-Shabab, a group aligned to al-Qaeda, seized control of southern and central parts of Somalia before Ethiopian, Kenyan and African Union peacekeeping troops undertook a counter-offensive in 2011, supported by the US.
Al-Shabab has now been forced out of Somalia's main towns but it still controls many smaller towns and rural parts of southern and central Somalia.