Egypt election body scraps voting dates - state TV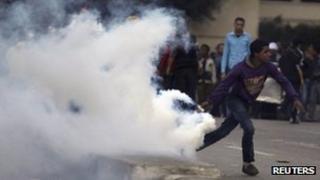 Egypt's electoral commission has cancelled dates for parliamentary elections which had been scheduled to begin next month, state TV reports.
The move comes after a court ruled that the electoral law backed by President Mohammed Morsi needed to be reviewed by the Supreme Constitutional Court.
Mr Morsi last month announced that the polls would take place in four stages over two months, starting on 22 April.
The main opposition said it would boycott the elections.
The National Salvation Front (NSF) argues that the electoral law favours the president's Islamist allies - a claim Mr Morsi denies.
The NSF also expresses concern that the elections would be neither free nor fair.
Earlier this week, the Cairo Administrative Court ruled that the country's highest court must rule on the electoral law's conformity to the constitution.
President Morsi later said he respected the ruling and that an appeal was unlikely.
Egypt remains sharply polarised between the governing Islamists and secular opposition.
More than 70 people were killed in recent weeks in clashes between security forces and opposition supporters at protests held across the country to mark the second anniversary of the revolution which removed Hosni Mubarak in February 2011.