Kenya election: Tense wait for Kenyatta and Odinga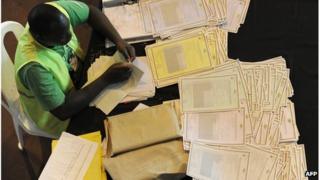 Uhuru Kenyatta retains a significant lead in Kenya's closely fought presidential election but it is not clear whether he will pass the 50% threshold to win outright.
With 87% of constituencies declared, Mr Kenyatta has 50% of the vote, against 43.3% for Prime Minister Raila Odinga.
After four days of anxious waiting, election chief James Oswago said the results would be finalised on Friday.
Mr Kenyatta faces trial in The Hague in July for crimes against humanity.
He is accused of fuelling communal violence after the 2007 election that saw more than 1,000 people killed and 600,000 forced from their homes. He denies the accusations.
Trials at the International Criminal Court (ICC) typically last for years, and it is unclear how Mr Kenyatta would be able to govern Kenya, if elected.
Countries including the US and UK have hinted that his election as president would have consequences for their relations with the Nairobi government - comments which have been dismissed in Nairobi as unwanted foreign interference in domestic matters.
Meanwhile on Friday, high court judges dismissed a case aimed at halting vote counting.
'Stressed and tired'
On Friday afternoon, Mr Oswago told journalists: "This process must end today."
Reacting to rumours he had disappeared, he said was "neither in prison nor dead but stressed and very tired".
This year's election has so far been largely peaceful. But the count has been plagued by a series of technical glitches.
One of these was a programming error, which led to the number of rejected votes being multiplied by a factor of eight.
This meant more than 330,000 votes - 6% - were initially rejected - enough to change the course of the election.
The electronic system was abandoned, and the process of tallying results from the country's 32,000 polling stations was restarted by hand on Wednesday.
The number of rejected votes is now about 1% of total votes cast.
The BBC's Gabriel Gatehouse in Nairobi says this high-profile flop is an embarrassment for Kenya's electoral authority, the IEBC, as well as a stain on the reputation of a country positioning itself as an African tech-hub.
The hi-tech system was introduced with one main purpose - to eliminate the possibility of vote-rigging, and give the Kenyan electorate faith in the count - but our correspondent says the failure could end up having the opposite effect.
There are fears that if the loser does not accept defeat, there could be a repeat of the violence seen after the previous poll.
The election authorities have until Monday to announce final results.
An umbrella group of civil society activists had launched a court case to try to stop the vote count, saying election officials had not explained the nature of the computer glitch.
But high court judges said they had no jurisdiction in the case.
By 16:30 GMT on Friday, 254 of 290 constituencies had declared, with 10.7m ballots counted.
Mr Kenyatta, the son of Kenya's first President Jomo Kenyatta, had 5.4m votes (50%). Mr Odinga was trailing with 4.6m (43.3%).
If no candidate gets more than 50% of the votes, a run-off will be held next month.
Both men have passed the second condition needed for victory - at least 25% of the vote in more than half of the 47 counties.
But both camps have criticised the tallying.
Mr Kenyatta's supporters also accused the UK of meddling in the election, an allegation denied by London.
Mr Odinga's running mate, Kalonzo Musyoka, said he had evidence of vote rigging, and also called for the results process to be halted.
But Issack Hassan, from the electoral body, denied that any rigging had taken place.
Kenyans are said to be waiting impatiently for the result, crowding around TV sets to watch coverage of the election.
Turnout was estimated at more than 70% of 14.3 million voters.