UN in DR Congo 'army rape' ultimatum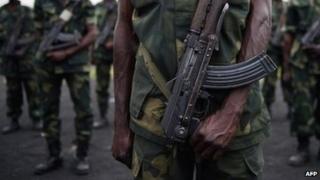 The UN peace force in the Democratic Republic of Congo has issued an ultimatum to two units within the army over allegations of mass rape.
Unless swift legal action was taken against the accused soldiers before the end of March, the UN said it would stop working with their brigades.
In December, it said it had evidence of at least 126 rapes carried out by soldiers fleeing a rebel offensive.
Armed groups in eastern DR Congo often use rape as a weapon of war.
The region's mineral riches have been plundered by numerous groups and countries over the past two decades.
'Shape up'
The rapes occurred in the town of Minova, to the south of the city of Goma which was captured by M23 rebels in November.
The UN investigation identified a number of perpetrators from within the retreating Congolese army and demanded that they be prosecuted.
"Since nothing sufficient has happened at this stage we have already put two units of the armed forces of Congo on notice that if they do not act promptly we shall cease supporting them," a UN official in New York said on condition of anonymity.
"They have to shape up."
The army brigades, which were not identified, depend on the UN for military support such as attack helicopters, the official said.
BBC UN correspondent Barbara Plett said the UN mission in DR Congo has a mandate to back Congolese army operations against rebel groups, but it is supposed to end such support if the soldiers commit human rights abuses.
Last month, regional African leaders signed a UN-brokered accord to end the conflict, which may lead to the establishment of a special UN intervention brigade.
Some 800,000 people have fled the most recent unrest which started last April after the M23 fighters mutinied from the army.
They mainly come from the Tutsi minority group and say the government did not lived up to its promises in a 2009 deal, which saw rebel fighters incorporated into the army.
Rwanda and Uganda have denied UN allegations that they are backing the rebellion's leaders.