Cape Town crash kills South African churchgoers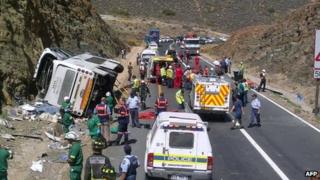 At least 24 people were killed when a double-decker bus carrying about 80 passengers crashed in a mountain pass near Cape Town, rescue workers in South Africa say.
Most of the dead are reported to be women and two were children.
Initial reports say the brakes failed on the bus, which left the road and overturned in the Hex River Pass.
A crane was used to lift the bus and free those trapped underneath, a local official told the AFP news agency.
More than 40 of the passengers were taken to hospital.
"[The driver] collided with the mountainside so they had to cut some of the body parts of the bus to free the people that were trapped inside," Western Cape health spokeswoman Faiza Steyn told the AFP news agency.
The passengers were returning to Cape Town from a church gathering in the northern Mpumalanga province, AFP reports.