Mali: Outrage over editor Boukary Daou's jailing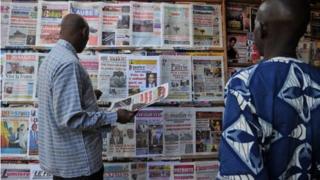 A Malian newspaper editor charged and jailed for inciting violence on Monday should be immediately released, a global media watchdog and Mali's press association has said.
Le Republicain editor Boukary Daou was detained nearly two weeks ago.
The paper had published a letter signed by a captain criticising the former junta leader's new salary and said frontline soldiers lacked equipment.
Reporters Without Borders said it was outraged by the latest developments.
The soldiers are part of the army fighting Islamist militants in the north of the country.
'Source of threats'
"We urge the relevant authorities to demonstrate their commitment to freedom of information by immediately releasing Boukary Daou and dropping the charges against him," Reporters Without Borders said in a statement.
"The Malian press must be given assurances that it will be protected by the institutions of the state, instead of having to see them as a new source of threats."
After being held without charge for nearly two weeks, Mr Daou was charged with inciting violence and publishing false news on Monday and was transferred to the main prison in the capital, Bamako.
As a result of the editor's detention, Mali's private media went on strike for four days last week.
Mankan Kone, president of Mali's press association, told the BBC French service on Tuesday that the media would not cover official government business in news reports until Mr Daou was freed.
At the time of the newspaper editor's arrest, Communications Minister Manga Dembele said Mr Daou acted irresponsibly and unpatriotically by publishing the soldiers' open letter to the president.
Capt Amadou Sanogo, who headed a coup in March 2012, was recently named as the head of a committee for the interim government to oversee reforms in the military and is believed to be paid about $7,800 (£5,250) a month.
He led the coup saying the army was ill-equipped to fight a rebellion led by Tuareg separatist fighters in the north.
Islamist rebels then took advantage of the chaos and seized control of the whole of northern Mali - prompting France to intervene in January 2013 to help the army recapture most of the area.