Mali crisis: France's Fabius calls for reconciliation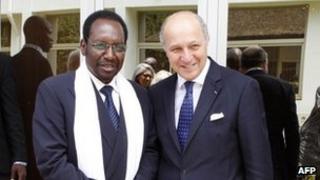 France's foreign minister has urged Mali's government to begin a process of reconciliation, assuring the war-torn country of continued military support.
Laurent Fabius said restoring security was essential but so was restoring democratic dialogue.
He called for elections this summer, saying that it was possible to have a legally elected president by July.
A French-led intervention that began in January has regained the main cities of northern Mali from Islamist groups.
However, fighting continues in the north.
France sent 4,000 troops to Mali to block the Islamist advance; it plans to withdraw most of its troops by the end of the year.
Training battalions
Speaking during a visit to the capital, Mr Fabius said: "There's an unanimous desire for the elections to happen as planned and the date agreed was for July.
"It has always been understood that there should be presidential followed by parliamentary elections, and that has been set for July."
An EU mission this week started training Malian soldiers as part of efforts to help the West African country counter the insurgency.
The first of four Malian battalions are training under European instructors at the Koulikoro base some 60km (37 miles) from the capital, Bamako.
The first fully trained battalion of Malian troops is expected to be operational in July.
Islamist groups took advantage of a coup in March 2012 to seize the vast north of Mali including major cities including Gao, Kidal and Timbuktu. They imposed a strict form of Islamic law in the area.
France intervened after saying the al-Qaeda-linked militants threatened to march on Bamako.
France is now preparing to withdraw its 4,000 troops fighting in Mali, which will be replaced by forces from several West African countries.
French President Francois Hollande said troop levels would be halved by July and reduced to about 1,000 by the end of the year.
The African force in Mali currently numbers about 6,300 soldiers.