Mali: Living with relatives from a war zone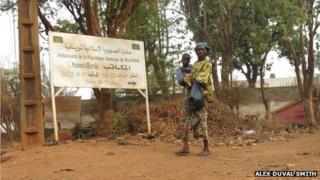 The conflict in Mali has seen many people flee their homes in northern cities like Timbuktu to seek refuge in the capital, Bamako, in the south. But accommodating these refugees has had its difficulties.
Before the military coup a year ago my neighbourhood was popular with retired ministers, diplomats and expats.
L'Hippodrome was known for its quiet, leafy streets and being handy for the French school.
Many residents had quite a payroll of staff - guards, gardeners, cleaners and cooks.
My Malian neighbour, Oumou, a single professional woman in her 50s, lived alone in a four-bedroom villa inherited from her parents.
Oumou has two brothers living in France.
A feminist and staunch defender of Mali's status as a secular republic, she prefers Bamako, because there are still battles to be fought here - for freedom of speech and for women's rights.
Oumou is like me. She smokes, drinks beer and wears trousers.
But a year ago secessionists in the north of Mali made rapid advances, followed by their Islamist supporters.
L'Hippodrome declined as foreigners left, rents plummeted and domestic staff were laid off.
A local football pitch became a repair stop for long-distance lorries.
The street next to mine turned into a sort of timber yard where broken furniture got put back together.
There is a lot more hammering, sawing and welding going on than you would expect in a leafy neighbourhood.
My local baker, having hit on hard times, has let his shop to a car mechanic.
Collecting one's baguette in the morning involves negotiating a floor littered with oily black car parts and legs sticking out from beneath vehicles.
Oumou's life has changed beyond recognition.
Uncontrollable cackles
In October her brothers in France sent cash to their aunts, who are farmers in Timbuktu, and ordered them and those they cared about to get on a bus and make the 500-mile (800km) journey to Bamako.
They arrived in L'Hippodrome and the large family house next to mine. Oumou was expected to accommodate eight people, ranging in age from six to 70.
You could argue that, living on her own, Oumou had three bedrooms to spare.
''It is not that I mind, but the people of the north are different, " she says,
"Their lives are governed by the seasons and the religious calendar."
Coming from the desert - where they are used to communicating over vast distances - they do not talk, they shout.
They do not laugh, they cackle uncontrollably. And they do all of this out of doors. I know. I live next door.
Oumou's pots and pans have been moved out of the kitchen into the garden, the natural place for farmers to cook over a coal burner.
Her pet dog, Coco, is now obese having given up eating carefully measured portions in favour of delicious scraps of food discarded around the garden.
To call it a garden is an exaggeration. These days it is a yard of brown compacted dust where a big hole has been dug for household rubbish to be dumped in.
The relatives spend their day lounging on straw mats and cooking dishes that are delicious but take all day to prepare.
And to Oumou's disgust, they have not sent their children to school.
Yet their involuntary flight from the north could have offered the opportunity for Bentou, a lively, pretty 13-year-old girl, to learn to read and write.
This culture clash between educated middle class Malians and their rural relatives is happening all over Bamako.
One of the peculiarities of Mali's war is that it has not spawned many refugee camps.
There are one or two in Mali, and more over the border in Niger.
But the vast majority of the estimated 500,000 people who have fled their northern homes have simply moved in with family members, like Oumou.
Malians say this is because of the country's tremendous tradition of hospitality.
But sometimes when I see Oumou in our local bar, eking out a single glass of beer to avoid going home to the relatives, I think she must be wishing it were otherwise.
France began its military intervention in January and has begun scaling back troop numbers.
But few people believe the north will be safe to return to anytime soon - especially if the discredited Malian army is the one keeping the peace.
The relatives are bored and want to go back up north, where their priorities are determined by the seasons and the religious calendar.
But Oumou knows that when they finally leave our L'Hippodrome neighbourhood, one of their first priorities in Timbuktu will be to organise the delayed wedding of 13-year-old Bentou.
How to listen to From Our Own Correspondent:
BBC Radio 4: Saturdays at 11:30 and some Thursdays at 11:00
Listen online or download the podcast.
BBC World Service: Short editions Monday-Friday - see World Service programme schedule.