Oscar Pistorius case: South Africa police phones seized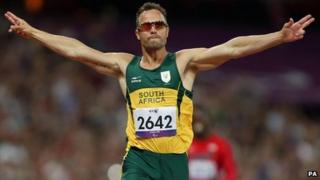 Forty-nine mobile phones reportedly used to take photographs of Oscar Pistorius in custody have been seized from South African police officers, a minister has revealed.
Police Minister Nathi Mthethwa said the phones had been confiscated for use in disciplinary proceedings.
Olympic athlete Mr Pistorius denies deliberately killing his girlfriend, model Reeva Steenkamp, in February.
Media houses reportedly offered large sums for photos linked to the case.
The former lead investigator on the case, Hilton Botha, has told local media that international news groups offered $50,000 (£33,000) for photos of the toilet door through which Mr Pistorius shot Ms Steenkamp.
Mr Pistorius says he mistook her for an intruder.
Mr Pistorius is a double amputee who won gold at the Paralympic Games as well as competing in the Olympics.
The police minister made the revelations in written answers to a parliamentary question from the opposition Democratic Alliance.
Four of the seized phones were official, while 45 were private, he said.
Mr Mthethwa did not give further details and his ministry did not say what disciplinary action had been taken against the officers.
Mr Pistorius has been freed on bail but the AP news agency reports that only one photo of him has been taken since his release.
He is allowed to compete in athletic events but the organiser of this summer's London Anniversary Games said he would not be invited in case it turned into a "media circus".
The London Anniversary Games are a three-day event which will be staged at the Olympic Stadium in Stratford from 26 to 28 July.