Nigeria: Maiduguri hospital shut 'over police assault'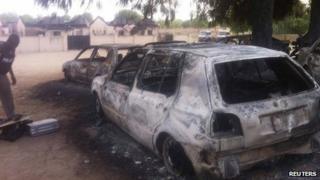 Doctors have closed the main hospital in Nigeria's north-eastern city of Maiduguri in protest at alleged police assaults on staff and patients.
They say officers became angry because the hospital mortuary was too full to take the bodies of colleagues killed by suspected Islamist militants.
One doctor told the BBC they would not reopen the hospital to new patients until the government provided them with security to do their work in safety.
The police have not yet commented.
Maiduguri is the capital of Borno state, where the Islamist group Boko Haram is based and where it has waged a violent insurgency to create an Islamic state since 2010.
'Hospital vandalised'
Fifty-five people died on Tuesday in a pre-dawn raid by suspected Boko Haram fighters to free prisoners in Bama, a town some 70km (44 miles) from Maiduguri.
A police station, military barracks and other government buildings were burned to the ground in the assault.
On Thursday, some of the slain bodies were taken to the University of Maiduguri Teaching Hospital, but medical staff say angry scenes broke out when the police were told the mortuary was unable to accommodate all of the corpses.
The Nigerian Medical Association (NMA) said the siege at the hospital lasted for about five hours.
"This mayhem unleashed on innocent health workers of the hospital, including the acting chief medical director of the hospital, led to the vandalisation of the hospital properties, as well as health workers and patients of the hospital sustaining various degrees of injuries," the NMA said in a statement.
One doctor's leg was broken and another doctor was slapped, the president of the resident doctors, Dr Yahaya Muhammed, told the BBC's Hausa service.
He said the hospital gates were now closed and no new patients were being admitted until the authorities provided for their security.
Some of the hospital's 300 doctors would attend to those patients already admitted, he said.
Dr Akpufouma Pemu, the NMA's secretary general, said the Hippocratic oath - by which doctors swear to uphold professional standards - was important, but that the doctors needed to be alive to care for their patients.
"Dead people don't keep oaths," he told the BBC's Focus on Africa programme.
"As it is now, it is the life of the doctor that is endangered so there is need for us to get some assurances from the security forces that any health worker who goes into that hospital is safe, will not be harassed, will not be brutalised," he said.
During Boko Haram's campaign of violence at least 2,000 people have been killed in northern and parts of central Nigeria.
Correspondents say the security forces have been criticised for using excessive force in their efforts to put down the insurgency.