Letter from Africa: A brighter future in Dubai?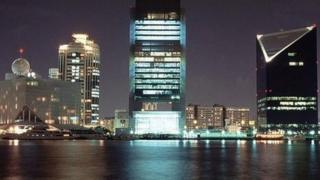 In our series of letters from Africa journalists, London-based Ugandan writer Joel Kibazo says he was surprised by the number of Africans he met during a visit to Dubai.
Every so often we all have what I call a "shaking-head moment", when something hits you and your mind can't quite adjust to what you are hearing or seeing.
A couple of weeks ago, I arrived in Dubai on a late flight and having checked into the hotel I decided only a wake-up call would save me from oversleeping and missing my first meeting the next day.
So, imagine my shock when I called the phone operator and upon confirming my name, he greeted me in Luganda, my mother tongue.
For a split second I could not compute where I was and he had to prompt me a couple of times before I responded about the wake-up call.
It turned out he was a young Kenyan who had studied in Uganda and had guessed my origins from my name.
So, I was not after all dreaming even before my head had hit the pillow.
Dubai is one of those places where every nationality is represented among those who work in the emirate but it is hard not to miss the fact that almost every African I saw and met is from Kenya.
From those working in the hotels to so many other sectors, they are almost all from Kenya and, what is more, they remain very much in touch with events at home, each of them was eager to discuss which side of the political divide they were on in the recent elections.
'Well-educated'
I made a point of seeking them out whenever I had an opportunity and they all had a similar tale, there were no job opportunities at home, the plan was to earn as much as possible in two to three years before returning home to start a business.
It is a remarkable achievement in many ways. Kenya is far from being the country with the largest population on the continent.
I wouldn't have been surprised if the largest number of sub-Saharan Africans working in Dubai and the other Emirates were from Nigeria or Ethiopia, each of whose populations more than doubles that of Kenya.
It shows that there has been a concerted effort to secure employment for these young people.
For all the economic growth that sub-Saharan Africa has been witnessing over the last decade, few of our economies have expanded to such an extent as to be able to absorb the growing numbers of well-educated young people, to offer them hope and opportunities that they worked hard to attain.
It is what has come to be known as jobless growth and the figures are sobering.
The continent has the youngest population in the world and some 60% of Africa's unemployed are reported to be between the ages of 15 and 24.
The continent's labour market is likely to surpass that of China and India by 2040.
All of this has serious implications. For one thing, a lack of job opportunities and employment means that the best laid plans for eradicating poverty will not be met.
There are questions to be asked of our current education systems which may not be adequate for addressing the demands of modern economies.
But, above all, it is the implications for social and political stability that I worry about most if the issue of youth unemployment is not addressed.
On the positive side, the earnings of foreign workers have helped boost African economies as they remitted funds to their home countries.
But that is never going to be the whole answer to the unemployment problem.
Those that have found opportunities beyond the African shores do not have it easy - far from it - but it is a solution of sorts, even if a temporary one.
As Africa this month celebrates 50 years of the Organisation of African Unity and the African Union, one of the biggest challenges that leaders and economists on the continent will have to address is how to overcome the jobless growth conundrum.
On leaving Dubai, I headed for South Africa where I spoke to the young gym attendant in my hotel. His ambition? To get a job in Dubai or Abu Dhabi.
Africa's youth are clearly on the move, determined to find their own solutions.
If you would like to comment on Joel Kibazo's latest column, please use the form below.