Shelling of UN base in Sudan kills peacekeeper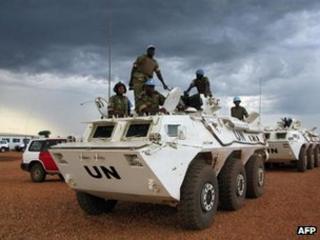 A peacekeeper was killed and two others were injured in Sudan when artillery shells hit a UN logistics base, the UN has said.
Both the UN secretary general and Security Council condemned the attack.
It is not clear who was behind it, but the UN has recently accused rebels of shelling the town of Kadugli in South Kordofan state, the base's location.
The Sudanese government has also blamed rebels for attacking an oil pipeline in Abyei, a nearby disputed region.
Khartoum said Sudan People's Liberation Movement-North (SPLM-N) fighters were being supported by South Sudan, and earlier ordered oil companies to block the flow of South Sudanese oil exports through its pipelines.
South Sudan's government has denied supporting the rebels.
Football tournament
The peacekeepers killed in Friday's shelling were from Ethiopia, a UN statement said.
The UN does not have a peacekeeping mission in South Kordofan, but it uses the base at Kadugli to supply its Interim Security Force for Abyei (UNISFA), an oil-rich area contested by South Sudan and Sudan.
Kadugli is due to host matches from a regional football tournament which begins on Tuesday, reports the BBC's James Copnall.
The UN base is not far from the football stadium, and one theory is that the rebels were trying to hit the stadium, our correspondent adds.
A spokesman from the rebel Sudan Revolutionary Front, which includes the SPLM-N, was quoted in local media as saying they would continue to shell the town even after the tournament begins.
The UN Security Council called on the Sudanese government to "bring the perpetrators to justice", while Secretary General Ban Ki-moon urged Khartoum and the SPLM-N to "immediately cease hostilities and resume ceasefire negotiations".
Sudanese government forces and members of the SPLM-N have been fighting in South Kordofan for two years.