ICC trial: Kenya's Ruto 'partially exempt' from attending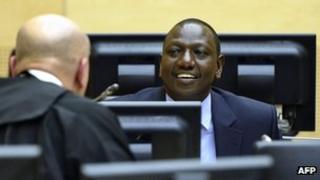 The International Criminal Court (ICC) has ruled Kenyan Deputy President William Ruto only needs to be "physically present" at key sessions of his trial, due to start in September.
Mr Ruto, accused of crimes against humanity, had requested to participate in the trial via video link.
The court said it had partially granted his request to accommodate the "demanding functions" of his office.
Mr Ruto has denied orchestrating 2007 post-election violence.
President Uhuru Kenyatta has also been indicted on similar charges. The pair were on opposite sides of the political divide six years ago.
Some 1,200 people died and more than 500,000 fled homes in the post-election unrest, which brought the country to the brink of civil war.
The BBC's Anna Holligan in The Hague says that legally speaking, this has absolutely no impact on President Kenyatta's trial, as they are two separate cases and are being treated within two separate chambers at the ICC.
But she says this won't stop speculation that the president too may be granted leave to miss parts of his trial for similar reasons.
However, Mr Kenyatta has not applied not to be present at his trial, which is due to start in July.
'Not just for dignity'
The ICC said Mr Ruto would have to attend the opening and closing statements of all parties and participants, and "when victims present their views and concerns in person during the trial".
He would also be required to attend the delivery of the judgment and, if applicable, sentencing.
"The Rome Statute does not afford any immunity based on official capacity," the court said in a statement.
"Permission granted Mr Ruto to not be continuously present was strictly for purposes of accommodating the demanding functions of his office as Deputy Head of State of Kenya and not merely to gratify the dignity of his own occupation of that office."
Earlier this month, judges at the ICC accepted a request by Mr Ruto's lawyers to delay his trial and obtain more time to prepare his defence.
The court also recommended parts of the trial should be held in Kenya or Tanzania.
The announcements came after weeks of pressure from other African states and the African Union to drop the charges against Mr Kenyatta and his deputy.
The AU said the ICC was being racist by only prosecuting cases in Africa - an allegation the chief prosecutor, who is from The Gambia, denies by saying she is standing up for the African victims of crimes against humanity.