UN peacekeepers killed in Sudan's Darfur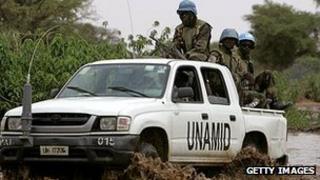 Seven UN peacekeepers have been killed and 17 injured in an attack in the troubled Darfur region of Sudan.
A spokesman for Unamid, a joint African Union-United Nations mission, said the incident happened near the mission's base at Manawashi, north of Nyala.
A UN statement said all the dead were Tanzanian. UN Secretary General Ban Ki-moon condemned the attack and called on Sudan to investigate it fully.
It is the worst ever single attack on the mission, launched in 2007.
More than 16,000 Unamid troops are currently based in Darfur.
Spokesman Christopher Cycmanick said the incident happened as the peacekeepers were on patrol about 25km (16 miles) west from a second Unamid base at Khar Abeche, in South Darfur.
The patrol, made up of both police and military personnel, was moving between bases at the time, a distance of about 70km.
Mr Cycmanick told the BBC a large group of armed men had attacked the peacekeepers and there had been an intense exchange of gunfire. He said it was not yet known who the attackers were.
Mr Ban was "outraged" to learn of the attack, a UN statement said, adding that he "expects that the government of Sudan will take swift action to bring the perpetrators to justice".
The UN estimates that more than 300,000 people have died in Darfur, mostly from disease, since rebels took up arms in 2003 against the Khartoum government.