South Sudan's Riek Machar eyes Salva Kiir's job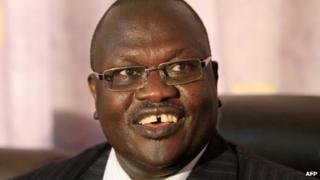 South Sudan's sacked Vice-President Riek Machar says he will challenge President Salva Kiir for the leadership of the ruling party so that he can run for president in the 2015 election.
Mr Kiir dismissed Mr Machar and the rest of the cabinet on Tuesday following an apparent power struggle.
He accepted Mr Kiir's decision to sack him, Mr Machar said.
On Thursday, the US raised concern that the sackings could threaten the stability of oil-rich South Sudan.
It became independent in 2011 after decades of conflict with the north, making it the world's youngest country.
'Politburo'
Numerous armed groups remain active in the country.
Mr Machar said people should remain calm, and not give the president an excuse to declare a state of emergency.
"This is a constitutional mandate of the president to remove and form a government. This is within the powers of the president. There should be no violence," he said.
Mr Machar said he would run for the chairmanship of the ruling party, the Sudan People's Liberation Movement (SPLM), before South Sudan holds its first national election since independence.
"I have told my colleagues in the politburo that come the next elections in 2015, I would contest those elections," Mr Machar said at a press conference in the capital Juba, Reuters news agency reports.
He condemned Mr Kiir's failure to appoint a new government immediately after sacking the cabinet.
"We now have a vacuum and this has created apprehension," Mr Machar added.
South Sudan's top civil servant Abgon Agao said Mr Kiir would appoint a new cabinet "very soon", possibly early next week.
He believed that a "good number" of dismissed ministers would be reappointed to the cabinet, Mr Agao said.
In the meantime senior civil servants are running the country, one of the world's least developed.
In a statement on Thursday, the US state department said: "It is critical that South Sudan stay true to the vision it laid out for itself two years ago at its independence."
More than 1.5 million people were killed and a further four million displaced during the conflict between the south, where most people are Christian or follow traditional religions, and the mainly Muslim, Arabic-speaking north.
But the country has suffered chronic economic problems since then and its stability has been hampered by lingering rows over territory and oil with its northern neighbour Sudan.
The SPLM led the fight against Khartoum.
As well as the cabinet, President Kiir also sacked SPLM head Pagan Amum and 17 police brigadiers.
The president gave no clear reason for the move, but analysts say he and Mr Machar have been embroiled in a power struggle for months.