Media fear for Egypt's future after killings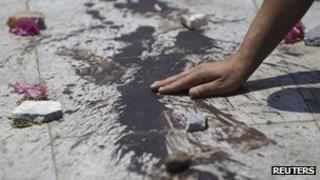 Media commentators fear that Egypt is on the brink of catastrophe after more than 70 people were killed in Cairo on Saturday at a rally in support of ousted President Mohammed Morsi.
One Iranian writer believes the events of the past few days - involving the shooting of supporters of Mr Morsi, and massive rallies for and against the ousted Islamist president - have increased the risk of civil war. A Jordanian commentator says the civil war has already begun.
However, some commentators believe there is a way out of the crisis, which they see as a clash of beliefs. One writer points to history where countries, such as the United States, have emerged stronger after internal conflicts.
Faruq Juwaydah in Egypt's Al-Ahram
Political leaders are settling scores at the cost of the future of the people… The death of youth at the hands of Egyptians is a crime.
Abbas Tarabili in Egypt's Al-Wafd
Anyone who analyses the clashes (at the Rabaa al-Adawiya mosque) and compares them to what happened at Tahrir Square will conclude that the Muslim Brotherhood wants an all-out war, and pictures from their sit-in protest are best evidence to that.
Editorial in Saudi Arabia's Al-Watan
National reconciliation to end the bloodshed in Egypt is possible, whether by pardoning the deposed president and leaders of his group, or by remanding them in custody. Using the masses as a political lever is illegitimate and unjustified.
Ra'uf Shahuri in Lebanon's Al-Anwar
The new phenomenon in Egypt is (defence minister) General Abd-al-Fattah al-Sisi. To belong to the army is not guarantee enough, as the army that spawned (former Egyptian President) Gamal Abdel Nasser also produced Hosni Mubarak.
Editorial in pan-Arab, London-based Al-Quds Al-Arabi
The Nasr City massacre, in which security men killed tens and injured hundreds of supporters of deposed Egyptian president Mohammed Morsi, opens the door to a terrible scenario… These painful events will only widen the dark abyss that the Egyptian people and their political and military institutions are heading towards.
Atallah Muhajirani in pan-Arab Al-Sharq al-Awsat
All Egyptians… need to reflect on the steps that they are taking and bear in mind that Egypt is on the verge of an unimaginable catastrophe. All of them need to reflect on what has happened in Syria and to ask themselves whether they can bear a similar, horrible fate.
Jalil Hasani in Iran's Jomhuri-ye Eslami
Events of the past days have increased the risk of Egypt plunging into a civil war.
Editorial in Qatar's Gulf Times
Street violence and bloodshed, undoubtedly, is a hellish way to settle differences. However, the current crisis may well be taken as an opportunity by the decision-makers and common people to iron out the lingering differences and bridge the widening divides for the greater good of the country. History offers examples. America became a stronger nation after the 1861-65 Civil War, the bloodiest conflict in its history. The US is now the hub of global economy.
Mahir Abu-Tayr in Jordan's Al-Dustur
The attacks on civilian Islamists in which dozens of innocent people were killed and thousands others were wounded are very painful. It is as if we are witnessing a civil war in Egypt… The killing of Egyptians at the hands of other Egyptians is a major disaster.
Semih Idiz in Turkey's Taraf
What the army in Egypt has been doing is of course a brutality which should be condemned… We are talking about a dangerous situation involving a clash of two points of view which approach life in radically different ways. The logical conclusion can only be civil war.
Derya Sazak in Turkey's Milliyet
The outcome of the intervention in the Friday protests has been a bloody massacre… Egypt has turned into a country that cannot be ruled. The people are poor, unemployed and hopeless. They are being oppressed by the coup leaders and sacrificing their lives to bring Morsi back.
BBC Monitoring reports and analyses news from TV, radio, web and print media around the world. For more reports from BBC Monitoring, click here. You can follow BBC Monitoring on Twitter and Facebook.