Nelson Mandela court case delayed after Ayob withdraws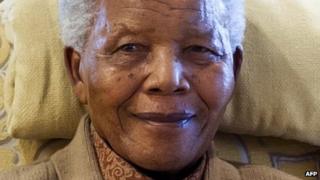 A court case aimed at ousting ex-South African president Nelson Mandela's aides from two companies he set up has been delayed, a law firm has said.
A judge took the decision after lawyer Ismail Ayob, acting for Mr Mandela's daughters, withdrew from the case.
The women were trying to gain control of the companies, said to be worth about $1.7m (£1.1m).
Mr Mandela's grandson Mandla accused them of trying to "loot" the 95-year-old ex-president's wealth.
Mr Mandela has been seriously ill in hospital since 8 June.
He spent 27 years in prison for fighting white supremacist rule in South Africa and became its first democratically elected president in 1994.
He stepped down from office five years later.
'Blatant abuse'
In April, two of his daughters, Makaziwe and Zenani, brought court action to oust prominent human rights lawyer George Bizos, ex-Housing Minister Tokyo Sexwale and lawyer Bally Chuene as directors of two of Mr Mandela's firms, Harmonieux Investment Holdings and Magnifique Investment Holdings.
The three had never been appointed to serve on the board of the companies, and had rejected requests to resign, Makaziwe and Zenani said.
The case was due to be heard on Monday, but was stuck off from the court roll because of Mr Ayob's withdrawal, said a spokeswoman for Norton Rose Fulbright, the legal firm representing the defendants.
"Once they've appointed new legal representation... they must inform the judge and he will put it on the roll again," the spokeswoman added, AFP news agency reports.
It is not clear why Mr Ayob - a close friend of Mr Mandela before falling out with him in 2004 - withdrew from the case.
Mandla Mandela said his relatives had engaged in a "blatant abuse of the elderly" by bringing the case.
"Why wait until the sponsor of a trust is not well to question decisions that he made [a] long time ago?" he asked.
Mr Mandela had "carefully set out" how his wealth "must benefit the family and who must guide decisions relating to that", Mandla Mandela said.
Mr Bizos, Mr Sexwale and Mr Chuene were men of integrity who had always had his grandfather's confidence, he added.
In April, Mr Bizos accused Mr Mandela's daughters of trying to "get their hands on things that should not be sold".
In July, Makaziwe and 15 other members of the Mandela family won a court case against Mandla over the burial site of three of the ex-president's children.
The court ruled that the three should be reburied in Qunu village, where Mr Mandela is expected to be buried.
Mandla was accused of unlawfully moving the remains in 2011 from Qunu to Mvezo, where he was the local chief, in the hope of influencing the burial place of Mr Mandela.