Congolese refugees in Uganda 'face water shortage'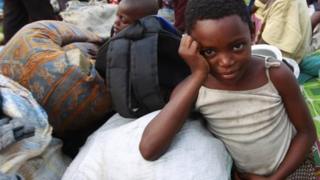 Thousands of people who have fled fighting in eastern Democratic Republic of Congo to Uganda face health risks because of a lack of drinking water, the charity Save the Children has said.
More than half of the 66,000 people who have crossed the border this month are children, the charity says.
They fled a raid on a border town by a Ugandan rebel group based in DR Congo.
Save the Children says resources in Uganda are insufficient to cope with the high number of refugees.
The BBC's Catherine Byaruhanga in Uganda says even though a transit camp providing aid has been set-up near the border town of Bundibudgyo, a lot of the refugees are choosing to stay with the host communities.
Without access to clean water and proper toilet facilities, they are at danger from waterborne diseases like diarrhoea, cholera and dysentery, the charity says.
"Local communities have been overwhelmed by the influx, with many families living in school complexes where latrines have overflowed," Save the Children said in a statement.
For the last nine years, the Uganda Allied Democratic Forces (ADF) rebel group has been based in mineral-rich eastern DR Congo, where numerous armed groups have caused havoc over the past two decades.
The ADF was formed in 1996 by a puritanical Muslim sect in the Ruwenzori mountains of western Uganda and after years of sporadic raids, the Ugandan army almost destroyed its capacity in 2004.
A United Nations report this year said the ADF rebels had expanded their military capacity and established links with Somalia's al-Shabab militants.