Zimbabwe elections: Voters' roll concerns Sadc observer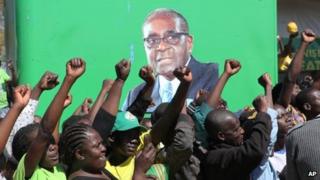 Southern Africa's chief observer to Zimbabwe, Bernard Membe, says he is gravely concerned that a voters' roll has not been released two days before tightly contested elections.
This is despite the fact that it is the "most important document" for Wednesday's election, he added.
The Movement for Democratic Change (MDC) said it plans to take court action to obtain the voters' roll.
The poll ends the coalition between the MDC and the president's Zanu-PF party.
'Ghost voters'
President Robert Mugabe, the Zanu-PF candidate, is seeking to extend his 33-year rule and will face Prime Minister Morgan Tsvangirai of the MDC at the ballot box.
The two long-time rivals have been sharing power since 2009, under a deal brokered by the regional bloc the Southern African Development Community (Sadc), to end conflict that marred elections held the previous year.
Mr Membe, Sadc's chief observer and Tanzania's foreign minister, said the voters roll was not a "top secret" document and its release was overdue.
"It has to be made available for the people to see; for the people to verify their names; for the people to know where they're going to vote," he told the BBC's Focus on Africa programme.
MDC Secretary-General and Finance Minister Tendai Biti said the party would take legal action against the Zimbabwe Electoral Commission (Zec) to get a copy of the roll.
"With virtually a day to go to the election, no political party in Zimbabwe other than Zanu-PF perhaps has got a copy of the final voters roll," he said, AFP news agency reports.
"Our lawyers are in the process of filing a court application to actually obtain a copy of that voters roll," he added.
In June, a non-governmental organisation, Research and Advocacy Unit, alleged that the roll included around one million dead voters or people who have moved abroad, as well as over 100,000 people aged over 100 years old.
The MDC alleges that these "ghost voters" are intended to boost Mr Mugabe's vote and it wants them to be removed from the voters roll.