Jacob Zuma painting vandal convicted in South Africa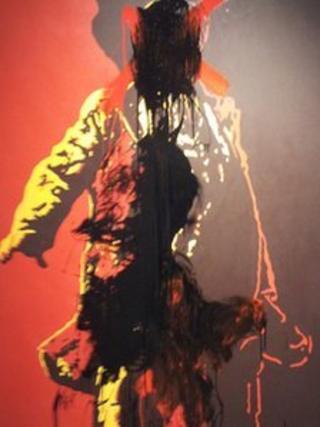 One of the men accused of vandalising a painting showing South Africa's President Jacob Zuma with his genitals exposed has been convicted of malicious damage to property, local media say.
A court found that Louis Mabokela, a Limpopo taxi driver, intended to damage the painting, The Spear, at the Goodman Gallery in Rosebank in May last year.
Mabokela had pleaded not guilty, saying he had done nothing wrong.
He said he was merely protecting the image of the president.
He was sentenced to six months in prison, suspended for five years.
The second defacer, Barend la Grange, has paid a 1,000 rand ($100; £65) fine after admitting guilt.
The painting was said to be worth about 100,000 rand but gained value after it was defaced, the SABC TV reported.
The painting is by Brett Murray, who is known for his political and provocative work.
The African National Congress condemned the work as "rude, crude and disrespectful" and went to court for an order that the gallery should remove it.