Ory Okolloh guest-edits Focus on Africa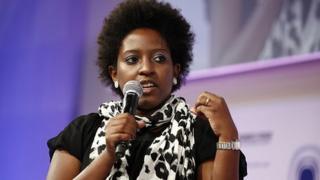 Kenyan online activist Ory Okolloh is the guest editor of the 1700 GMT edition of Tuesday's BBC Focus on Africa radio programme. Her contribution is part of our 100 Women series - a BBC season which seeks to shine a light on the lives of women around the world in the 21st Century.
Ms Okolloh is a renowned blogger, lawyer and technology expert. Forbes magazine described her as one of Africa's most successful women in an article published last year.
She describes herself as a "chief doer of stuff", saying she likes "getting things done".
A mother of three, she is currently the director of Investments at Omidyar Network, which says on its website that it is a philanthropic investment firm dedicated to harnessing the power of markets to create opportunity for people to improve their lives.
Before that, she was Google's policy manager for Africa. She also co-founded Mzalendo, a website set up to increase government accountability in Kenya.
During the violence the followed Kenya's disputed 2007 elections, she started Ushahidi, a site that collected and recorded eyewitness reports of violence using text messages.
So, it is not surprising that as Focus on Africa guest editor, she chose to look at the relationship politicians and voters are forging through social media.
Ms Okolloh has singled out 77-year-old South African anti-apartheid activist Winnie Madikizela-Mandela's presence on Twitter to show the attempt by politicians to "connect" with Africa's youth, who will increasingly influence the outcome of future elections.
'Inspirational doctor'
"She [Ms Madikizela-Mandela] even said that she was looking to connect - and her grandkids told her that young people are now found on Twitter and not in political rallies," Ms Okolloh says.
She says presidents in countries such as Nigeria and Kenya will increasingly find it difficult to ignore young voters as they will form the majority in the next elections.
"They can run. They can hide but I always say: 'They can't run away from the demographics'," Ms Okolloh adds.
The programme will also focus on how social media has changed activism, following the campaign launched earlier this month to bring to justice those who gang-raped a teenager in Kenya, as well as to raise money for her medical treatment.
The programme will also look at maternal health in Kenya, especially the efforts of Dr Wambui Waithaka to deliver babies at the state-run Pumwani maternity hospital in Nairobi despite the odds stacked against her.
"To me she represents what I sometimes think we all forget to do and say: 'What can I do from my side to make my country, or my space, or my city a much better place?'," Ms Okolloh says.
"As professionals, sometimes we struggle with saying: 'OK. The problems are so big and how do we fight corruption; how do we change this; how do we fight our leaders and we forget that maybe if we started in our own little sphere... we can make a difference," she adds.