'I was arrested in school and branded a terrorist'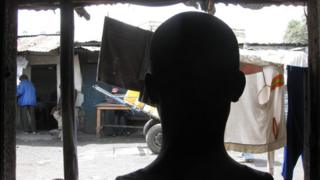 Ali Muhsin Ali is a quiet, unassuming 17-year-old Kenyan schoolboy from the capital, Nairobi, whose world was turned upside down on 7 October.
Police came into his classroom, handcuffed him, and arrested him in front of his classmates, saying he was part of the terrorist group responsible for the Westgate shopping mall attack.
He was detained for 10 days, beaten, and then released without charge - but not before his name was publicly linked with the attack, a stigma he fears will never leave him.
"I was revising for a physics exam in class, when three people came into the class with the school principal," he told the BBC.
"They put chains on my hands and took me to their car. My first thought was: 'This is the end of my education.'
"My classmates were looking at me through the window as I was taken away."
That evening, while being held in a police station he says he was beaten by a police officer.
No apology
"He was the one who came to take the register of prisoners, and then he beat me for no reason, accusing me of planning the Westgate attack," he said.
The Somali militant Islamist group al-Shabab said it carried out the four-day siege on the Nairobi shopping centre in September in which at least 67 people died.
"The other prisoners told me: 'You look innocent - they have only arrested you to show they are doing something about the attack.'"
The police refused to comment on the allegations when contacted by the BBC.
That long first night only got worse when another uniformed officer came and threatened him with a gun in his cell, Mr Ali said.
"He started shouting at me to tell him where I hid the grenades for the attack, and to give him names of other terrorists.
"Then he took out his pistol and cocked it.
"I thought that he was going to kill me. I told him that I have nothing and I know nobody."
Over the next couple of days he was questioned by the anti-terrorist police, who then seemed to accept he was not connected to the attack or al-Shabab in any way.
But he remained in police custody until 16 October and his subsequent release did not mean the end of his ordeal.
"When they released me I didn't feel like a free person, because when they arrested me, they told the Kenyan public my school, my class, my age and my name," the teenager said.
"After my release they didn't want the public to know they'd arrested an innocent person."
So no statement by the police clearing his name appeared.
'People disappeared'
Luckily the informal settlement where he lives in Nairobi is a close-knit community, where everyone knows everyone.
It is a poor area with mud roads and lean-too shacks - some would call it a slum - but in the words of Mr Ali: "Most of the people in this area are hard workers, they have unity.
"If a person has a problem everyone comes together to help solve that problem."
The white minarets of the nearby Pumwani mosque can be clearly seen above the rusty corrugated roof of his street - it has been closely linked with rumours about recruiting al-Shabab fighters, radicalising others and raising funds for the group in Somalia.
The mosque management deny all these allegations.
Mr Ali, who does not speak Somali, told me he has never personally met anyone who has tried to radicalise him at the mosque.
But nobody who knew him believed he was a terrorist when he returned home, where we interviewed him.
Hussein Karethi, a neighbour, chipped into our conversation: "It's a normal story in this area, we've seen people being victimised by the police, and people have disappeared.
"People here are afraid and feel threatened by the police, who like to come back after releasing people," he said.
Walking around the settlement with Mr Ali and his parents, one got the impression that they were a well-respected family who were often greeted warmly by neighbours, or shared a joke them.
"When I came back from my arrest, some of them were crying, some of them were saying that 'Ayee! We didn't think you were alive, we thought they would only bring your body!'" Mr Ali said.
"But me, I was not even able to say any words or talk with people on that day."
This is where his mother Khadija Kioko picks up the story.
She has a calm but determined face, the look of a mother who has struggled hard to bring up five children in difficult circumstances.
"My first words to him when he returned were: 'Are you ready to study?'" she said.
"I was worried about his education. The strength he has, is from those who surround him, we give him moral guidance, never neglecting him, and telling him: 'This is life, and life has to go on.'"
Stigma
One month on from his arrest, Mr Ali still has no idea why he was arrested, and has received no explanation from the police.
He also fears being re-arrested, since that has happened to others in his neighbourhood.
"It is not only me. You hear that someone has been arrested, then they've been released, after some time they're arrested again and nobody knows where they are now."
Mr Ali has not returned to school, even though he has received the support of his classmates.
He fears the stigma of his arrest with his teachers, even though he was a respected member of the school, and appointed the academic prefect by staff.
And he does not stray out of his home neighbourhood for fear of what others will think of him.
Without the benefit of a public apology from the police, Mr Ali's message to his fellow Kenyans is simple: "I'm innocent."
After shaking hands and bidding us farewell, he picks up his stool by the front door and carries it slowly to the communal washing area, to continue washing shirts with his neighbours.