Egypt's constitution panel members walk out over arrests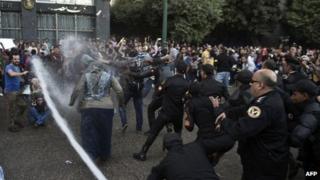 Ten members of the panel drafting Egypt's new constitution have walked out in protest over arrests of dozens of activists rallying in Cairo.
The activists were held in the capital after demonstrating against a new law which restricts public protests.
But a spokesman for the constituent assembly told the BBC he had assurances that they would be freed soon.
He also said a referendum on the amended constitution would be held before the end of the year.
It is a key first step in the political transition after Islamist President Mohammed Morsi was ousted in July.
Interim Prime Minister Hazem Beblawi has called the referendum the "most critical moment" for Egypt. He had earlier predicted that the vote would take place in January.
Parliamentary and presidential elections are expected to follow after the constitution is passed.
A committee of 50 members, few of whom are Islamists, began work in September on amending the constitution that was pushed through by Mr Morsi.
The army had given the committee a 60-day deadline to finish the draft.
Supporters of Mr Morsi have been protesting against the interim authorities and demanding his reinstatement.
They refuse to recognise the current government and are expected to campaign against the referendum.
Activists have also been rallying against the newly-adopted law requiring police approval for gatherings of more than 10 people.
On Tuesday, riot police arrested more than 25 people in Cairo. Police used a water cannon to break up the protest.
Human rights groups have said the new law is a major setback to freedom of assembly in Egypt.