Ivory Coast 'targeted Laurent Gbagbo allies' in Ghana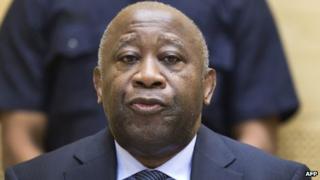 Ivory Coast agents were sent to Ghana to kidnap or assassinate supporters of Ivorian ex-President Laurent Gbagbo, according to Ghanaian officials.
Ghana said it had foiled two such attacks, a letter sent to the United Nations Security Council said.
An Ivorian government spokesman told the BBC "these are not our methods".
Mr Gbagbo was arrested in 2011 after months of unrest, killing some 3,000 people, sparked by his refusal to accept his defeat in 2010 elections.
The former president is now awaiting trial at The Hague on charges of crimes against humanity.
The report to the UN security council was written by experts who monitor sanctions placed on Liberia.
After Mr Gbagbo's capture, several of his close allies fled to neighbouring Ghana.
The Ghanaian authorities claimed to have foiled at least two missions by Ivorian agents in early 2013 and stated to the experts that at least one former Gbagbo supporter who had returned to Ivory Coast had been abducted and had disappeared.
The monitors say they have not been able to independently verify the Ghanaian officials' claims.
Ivory Coast government spokesman Bruno Kone told BBC Afrique that he wanted more details but "at this stage, we do not give the report much credit".
The panel of experts believes that former Gbagbo officials now living in Ghana finance cross-border attacks from neighbouring Liberia into Ivory Coast.
The UN experts said the Ivory Coast government paid pro-Gbagbo mercenaries in Liberia not to stage cross-border attacks. These payments were "particularly effective", it found, because Liberian mercenaries tend not to have strong political involvement in Ivory Coast affairs.
The report expresses concern that this method of reducing cross-border attacks is not sustainable.