Tunisia leader 'hopeful' despite Arab Spring protests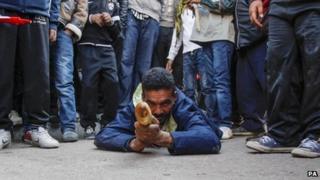 Tunisia is doing "quite well", President Moncef Marzouki has told the BBC as protesters marked the third anniversary of the start of the Arab Spring.
Several hundred opposition activists gathered in the central town of Sidi Bouzid, seen as the birthplace of the Arab pro-democracy uprisings.
They protested against a lack of progress, including high unemployment.
But Mr Marzouki said Tunisia was relatively successful.
"Of course it's a success," the president said.
"When you compare Tunisia with other countries like us, having this revolution... we don't have any civil war; we still stick to democracy; we have basic freedoms."
Transition
Mr Marzouki conceded there were problems, such as corruption.
The Arab Spring, which saw popular protests challenge authoritarian leaders in several Middle East and North African countries, is widely held to have begun in Sidi Bouzid.
Jobless Mohammed Bouazizi set fire to himself after officials prevented him from selling vegetables. The subsequent protests led to the toppling of long-time President Zine al-Abidine Ben Ali in early 2011.
However, Tunisia is still in the throes of political transition.
Dissatisfaction with the government increased with the murders of prominent left-wing figure Chokri Belaid in February and opposition politician Mohammed Brahmi in July.
The governing Islamist Ennahda party condemned the killings - but the mainly secular opposition accused it of failing to rein in radical Islamists.
Government and opposition agreed in October on an interim administration to govern until elections next year, and Industry Minister Mehdi Jomaa was named on 14 December as interim prime minister.
A new constitution could be finalised in a month's time with elections in six months, Mr Marzouki said.
"When we finish this transition period, Tunisia will be a stable country and probably a prosperous country," he told the BBC's Ahmed Maher in Tunis.
But discontent at continuing high unemployment was evident at Tuesday's demonstration in Sidi Bouzid.
Slogans such as "Work is a right, band of thieves!" could be heard, a journalist for the AFP news agency reported.
Supporters of Ennahda are reported to have held a rival demonstration in the town.
Backers of Islamist groups also took to the streets in Sidi Bouzid and the capital, Tunis.
Mr Marzouki and Prime Minister Ali Larayedh attended a low-key anniversary ceremony at the presidential palace in Tunis.