Africa in 2013: 10 things we've learnt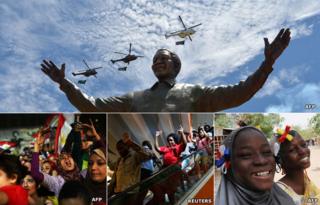 From France's military intervention in Mali and the Westgate terror attack in Kenya to the ousting of Mohammed Morsi as Egypt's president and the death of South African anti-apartheid hero Nelson Mandela, it's been a momentous year for Africa.
But can you remember some of the quirkier headlines from 2013? Here are 10 things we've learnt in the last 12 months.
1) Kenyans can run faster than cheetahs
Villagers in north-eastern Kenya last month outfoxed cheetahs who were picking off a farmer's goats by outrunning them over a distance of four miles (6.4km) during the hottest time of the day. The cheetahs were captured live and handed over to wildlife officers.
Botswana's leader Ian Khama didn't get off so lightly in his encounter with a cheetah earlier in the year. He needed stitches on his face after being scratched by one as it was being fed in its enclosure at an army barracks.
Kenyans chase and catch cheetahs
Cheetah claws Botswana president
2) DR Congo's leader should be a rally driver
President Joseph Kabila drove himself 930km (575 miles) along treacherously boggy roads from the central city of Kisangani to eastern Democratic Republic of Congo to visit territory recaptured from the defeated M23 rebel group.
His car got stuck in the mud several times during the week-long journey and the presidential guards had to get out and push.
Congo leader eyes end to conflict
3) African art is big business
Angola won the Golden Lion award for the best national participation at this year's Venice Biennale, the world's most prestigious contemporary art event. This was followed in London by the first international fair dedicated to modern and contemporary African art.
And Kenya also held its first commercial auction of East African art in the capital, Nairobi, which saw totals bids of more than $215,000 (£131,000).
Africa triumphs at the Venice Biennale
In pictures: Putting African art on the map
4) Somalis dial 888 for emergencies
Police in the Somali capital launched an emergency telephone service for the first time in more than 20 years. Mogadishu residents can now call 888 and the police will be sent out.
It is one of several services to return to the city, including a new fire department, a taxi company and street lights.
Somalia gets emergency police number
Streetlights bring normality to Mogadishu
5) Omosexy does housework
Nollywood star Omotola J Ekeinde, known to her fans as Omosexy, told the BBC she doesn't wear make-up at home and pounds her own yam, a food staple in Nigeria.
The Nigerian actress was named as one of Time Magazine's 100 most influential people in the world this year.
6) Dreadlocks are valuable
Thieves in South Africa are targeting people with dreadlocks, which they cut off and sell on the black market.
Shoulder-length dreadlocks are sold for between $23 (£15) and $70, while longer ones can fetch about $200.
SA thieves targeting dreadlocks
7) "Mr Marlboro" is one of the continent's most wanted men
Islamist militant Mokhtar Belmokhtar was the mastermind of the deadly siege at an Algerian gas plant in January.
A one-eyed war veteran - he once fought Soviet forces in Afghanistan - he became known as "Mr Marlboro" because of his role in cigarette-smuggling across the Sahel to finance his jihad. For more than a decade French intelligence sources have described him as "uncatchable".
8) Liberian students may need to study harder
None of Liberia's nearly 25,000 school-leavers passed this year's admission exam. A University of Liberia official said they did not have a basic grasp of English.
Ten years after the end of the West African nation's civil war, many schools lack basic education material and teachers are poorly qualified.
All Liberia students fail exam
9) Rumba star Tabu Ley Rochereau more prolific than most
DR Congo's much-loved musician Tabu Ley Rochereau died and thousands of people attended his state funeral held at parliament.
He composed more than 3,000 songs during his career and is thought to have had 84 children, although he only officially recognised 49.
Thousands mourn Congo rumba star
10) Victoria Falls could be Disneyfied
Zimbabwe plans to build a "Disneyland in Africa" at the world famous Victoria Falls, the country's tourism minister told the BBC.
It "should be modelled along the size and the kind of vision that is on Disneyland, including hotels, entertainment parks, restaurants, conferencing facilities", he said.