Tunisia PM Ali Larayedh hands over to Mehdi Jomaa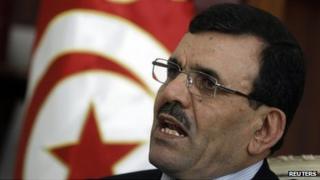 Tunisia's Islamist Prime Minister Ali Larayedh has resigned, fulfilling a pledge taken last year to help end the country's political deadlock.
The political crisis was brought about by the assassination of secular politician Mohamed Brahimi in July.
He will be replaced by Industry Minister Mehdi Jomaa, who will head a non-partisan, caretaker government.
Handing in his resignation, Mr Larayedh said: "I hope the country will be a model for democratic transition."
Mr Larayedh's Ennahda party won the first democratic elections after long-time ruler Zine al-Abidine Ben Ali was forced from power in 2011.
However, Ennahda has faced widespread opposition since coming to power, from those who accuse it of being too close to militant groups - charges it strongly denies.
It has also been unable to end an economic crisis, another factor in widespread street protests.
The UGTT trade union confederation, which mediated the crisis between the government and the opposition, said the formation late on Wednesday of an independent authority to oversee fresh elections, which the Ennahda party had set as a condition for stepping down, had paved the way for Mr Larayedh's resignation on Thursday.
Tunisia's national assembly hopes to adopt a new constitution by 14 January - the third anniversary of the 2011 revolution that led to the overthrow of Mr Ali.
Elections are expected to take place later this year.